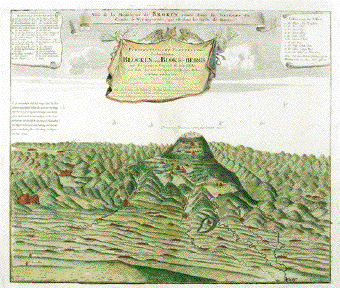 "Perspectivische Vorstellung des beruehmten Brocken older Bloks-Bergs mit der jenigen Gegend, so weit solche von dem, der auf der Spitze des Berges stehet gesehen werden kan". Panoramic view of the Brocken in the Harz mountains which are located in Sachsen-Anhalt and Lower Saxony in Germany.
Copper etching, drawn in 1732, but published only in 1749 by Homann Heirs in Nuremberg. Pleasant hand coloring.
Legends have it that the Bloks-Berg has been a location for whichcraft and witches meetings. The mountain in this engraving shows a platform on top of it with two witches dancing their dance while six more witches are approaching the place riding through the air on their brooms.
The view is from the East westward. In the foreground Halberstadt, Derenburg, Wernigerode, Ilsenburg, Bad Harzburg, Vienenburg, Hornburg, Schlade, Clauthal-Zellerfeld, just to name a few places. This map is very detailed and shows every tiny village in the area.
Map is in very nice condition. The centerfold has been expertly restored. Ample margins.
47 x 56 cm (18.5 x 22").
Order Nr. WITCHES 0053SOLD