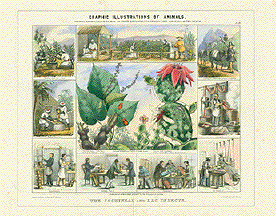 The Cochineal and Lac Insects" (Dactylopius coccus - Scale insects) Crimson colored dye carmine.
Lithograph by W. Hawkins. Original hand coloring. From ăGraphic Illustrations of Animals shewing their utility in their employments during life and uses after death". London, ca. 1860.
In the center of the lithograph shown:
Coccus lacca, coccus cacti, croton lacciferum (Asia) Cactus cocheniliffera (Prickly Pear) South America.
Uses on surrounding pictures clockwise from top: Gathering cochineal; crossing the Andes with serons of Cochineal; Dying C.; for Colour---C.; Japanning---L.; Sealing Wax---L.;
Hatmaking---L.; Making ShellLac; Gathering Stick Lac---Asia.
The use as a cosmetic dye as for lipsticks is not shown here.
Some minor spotting mainly in margins. Repair in lower margin on centerfold.
Size within black borderlines: 30.3 x 36.5 cm (11.9 x 14.3")
$ 240.00
Order Nr. INSECTS9941