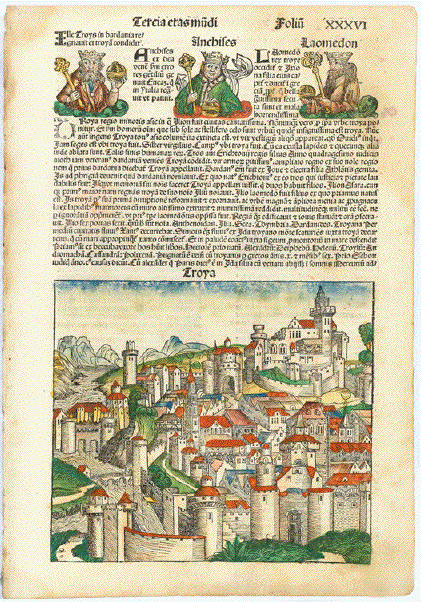 Türkei. - "Troja" (Troy - Troja)
The ancient city of Troy depicted from a European point of view.
Type of print: Woodcut
Color: Original hand coloring. Superb. Royal!
Publisher: Hartmann Schedel
Published in: "Nuremberg Chronicle" . Page:XXXVI = 36
Where: Nuremberg
When: 1493
First edition. Latin language
Reverse side has related text print.
Above view of Troy we see portraits of three Toyan kings
Condition: Good for the age of 520 years. Browning from fingers turning pages in lower right margin corner
Upper right has a water spot. There are minor traces of age and use. Some small tears in margins have been repaired
Image of Troy: 19,7 x 22 cm (ca. 7.8 x 8.7")
Order Nr. SCHEDEL238624SOLD