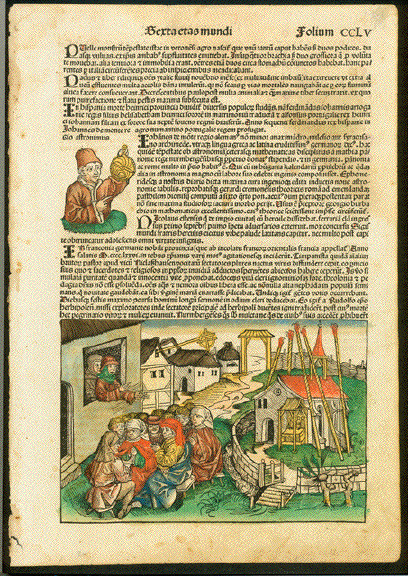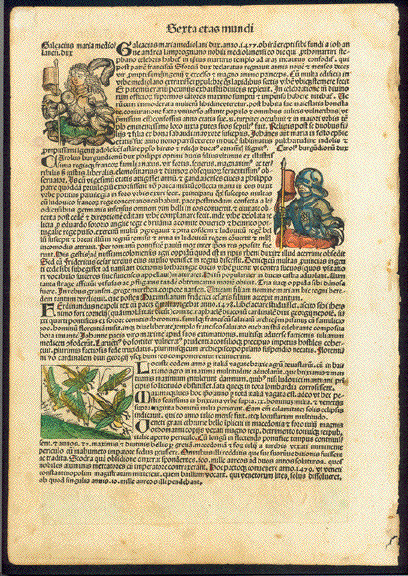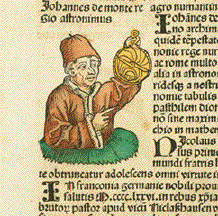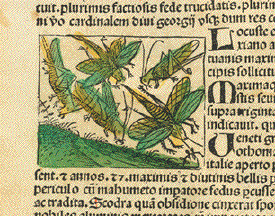 "Sexta etas mundi Fol.CCLV" Page 255
Front page:
"Johannes de monte regio astronomus" Regiomontanus. Johann Mueller - also Johannes Molitor 1436 - 1476). Regiomontanus = Latin for Koenigsberg in Franconia). He was a famous astronomer, mathematician and publisher. A co-member of the so called Vienna School of Astonomy.
No title. Niklashausen in Franconia. Crowd gathered aroung Hans Boehm (Hans Behem, a herdsman and preacher in Niklashausen, promising his numerous followers indulgence drum their sins. He was also preaching a sort of socialism (common property). He was considered a heretic by church authorities. And the bishop of Wuerzburg let him be arrested, taken to Wuerzburg and burnt at stake.
*****
Verso:
"Galeacius maria mediolannen dux" - Galeazzo Maria Sforza, Duke of Milano (1444 - 1476), known as a patron of Art and Music.
"Carol burgundionum dux" . Charles I. (the Bold) of Burondy (1433-1477)
No title. Locust plague in northern Italy
Outstanding original hand coloring. Superb quality!
Upper right, respectively upper left corner has water stain with small repaired holes in paper. The image of Sforza has lost much of much of its original hand coloringSee scans. Generally aged paper, age and use showing. See scans.
Page size 42 x 28,5 cm (ca. 16.5 x 11.2")
$ 1200.00
Order Nr. SCHEDEL249616 No Discount