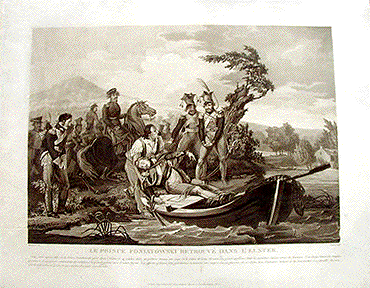 Le Prince Poniatowski Retrouvé Dans L'Elester-
Aquatint engraving byJean-Pierre Marie Jazet (1788 -1871). Was an excellent aquatintist. His favorite subject matter was history and the events around Napoleon I., after a design by Martinet. Paris, ca.1830.
Prince Jozef Antoni Poniatowski (May 7, 1763 Vienna -October 19, 1813) nephew of Polish King Stanislaw II.
August, Polish General and French Marshal, was found dead by a fisherman in the river Elster near Leipzig
(Saxony) on October 24, 1813.Poniakowski covered Napoleon's retreat after the lostbattle at Leipzig. His troups were the rearguard. Whenthe bridge across the Elster was prematurely destroyed, Poniatowski had to cross the river by horse and drowned in the process.
The aquatint has a high quality of art, but its condition is less than good. It had suffered various visits of paper worms and three tears in the margins to the edge of image. It had also suffered stains. It was, obviously very professionally, laid down on paper, so that the aquatint was saved and quite presentable.
31.0 x 44.0 cm (12.2 x 17.3")
$ 185.00
Order Nr. POLAND1950