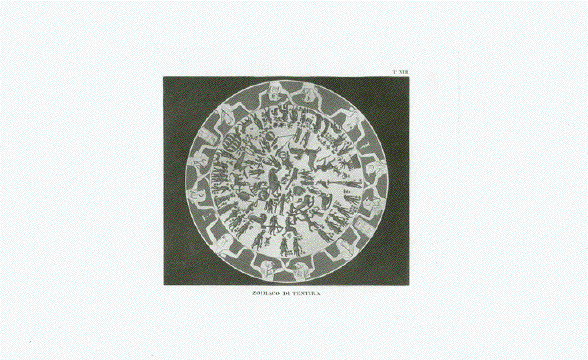 "Zodiac of Dendera"
Title translated from the Italian language.
Dendera is a place in Upper Egypt, known for its important archeological site: The temple compound of Dendera. This amazing zodiac was a ceiling fresco in the main temple. It was carefully removed from its original place in 1820. Since 1822 it can be admired in the Louvre in Paris.
Anonymous aquatinta.
Published in "Atlante di Geografia Universale … per servire al Corso di Geografia Universale"
Author. Francesco Constantino Marmocchi (1805-1858)
Florence, 1840
Very clean. Excellent condition. Print has vertical centerfold.
Image: Image: 14,5 x 17 cm (ca. 5.7 x 6.7")
Sheet: Ca. 42 x 50 cm (ca. 16.5 x 19.7")
$ 320.00 (Please look for discount at top of this page. Here 40% = $ 192.00)
Ordere Nr. ASTROLOGY255168