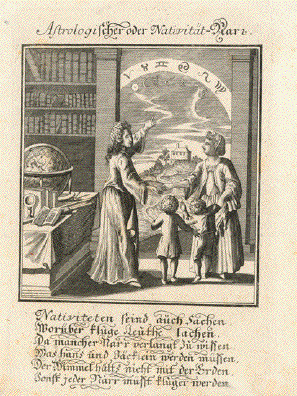 " Astrologischer oder Nativitaet-Narr"
"Nativitateten seind auch Sachen,
Worueber kluge Leuthe lachen,
Da mancher Narr verlangt zu wissen
Was Hans und Jackiein werden muessen,
Der Himmel haelts nicht mit der Erden,
Sonst jeder Narr musst kluger werden."
Mother consults an astrologer to find out what her children should become.
Copper engraving published by Christoph Weigel (1654-1725 ) after the
work by Abraham a Santa Clara (1647-1709) of saterical observations of
various proffessions, trades and life expriences.
Print has a few very light scattered spots in text.
Image: 12 x 11.2 cm ( 4.7 x 4.4 ")
Page size: 19 x 15 cm ( 7.4 x 5.9 ")
Order Nr. ASTROLOGY243288 SOLD