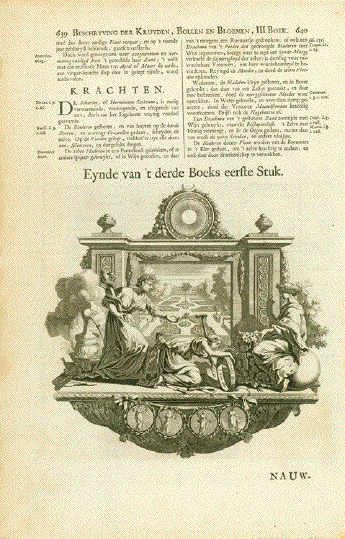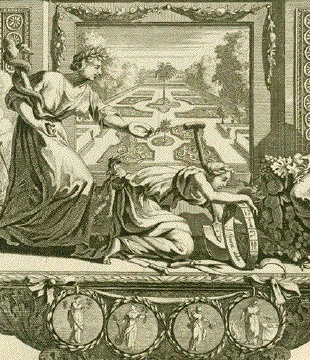 No title.
An allegorical print. End of a chapter in Abraham Munting's "Waare Oeffening Der Planten, Waar In De rechte Aart, Natuire, en verborgene eigenschappen der Boomen, Heesteren, Kruiden, ende Bloemen"
Abraham Munting (1626-1683)
Amsterdam 1672
Copper etching by Jan Goeree (1670-1731).
This print is full of hints referring to Astronomy, Horticulture, Medicine, etc. I'll try try to mention a few details:
Above the well composed allegorical print we see the shining sun, surrounded by stars and topped by the moon. We look like through a window into a formal garden, a palace in the distance. Three female figures play the main roll. On the left a maiden carrying a rod of Asclepius (with the snake) symbolizing the mddcical use of plants. Opposite her a sitting maiden holding fruit in her lap symbolizing harvest. and in between a kneeling (working) maiden holding a spade and a wheel with the zodiac symbolizing garden work and the interaction of the course of the year. Garden tools are spread. And on the left we have see a signal for using chemistry to gain medicine from plants.
Below four maidens in circles symbolize the seasons: Spring, Summer, Autumn and Winter.
Copper etching is on the complete page, above the image: text in the Dutch language
There are minor traces of age and use. Some not so important spotting. But basically the print is in good condition.
Image: 19 x 20 cm (ca. 7.5 x 7.9")
Sheet size: 38,5 x 24 cm (ca. 15.2 x 9.5")
$ 125.00 (Please look for discount at top of this page)
Order Nr. GARDEN252273