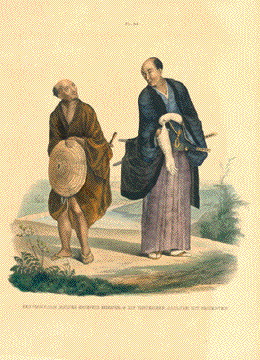 "Een voornaam Japaner benevens bediende - Ein vornehmer Japaner mit Bedienten"
Lithograph after the drawing by J. Erxleben. Original hand coloring. Hightened in parts with gold.
Published in "Nippon - Archiv zur Beschreibung von Japan…"
By Philipp Franz von Siebold (1796-1866)
Leiden and Amsterdam, 1832
A very finely executed lithograph. Light general age toning. Edges of sheet have some minor traces of age and use.
Image size ca. 30 x 28 cm (ca. 11.8 x 11")
Sheet size: ca. 45 x 32 cm (ca. 17.7 x 12.5")
Order Nr. JAPAN248631SOLD