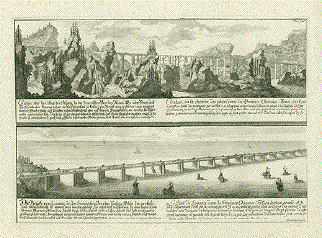 Cientao, oder der Weg der Stuezen in der Sinesischen Provinz Hensi, Wo ueber Berg und Thal (umb ohne Umweg naeher an die Hauptstatt zu komen) eine Bruecke von 30 Stadien Laenge angeleget worden...
Die Bruecke von Loyano in der Sinesischen Provinz Fokien, welche die groesste und wunderbarste ist, wovon man jemals gehoeret...
Praise of bridge building.
Copper etching with 4 images by Johann Adam Delsenbach
(1685 - 1765) after the drawing by Johann Bernhard Fischer von Erlach (1656 - 1723). From ćEntwurf einer Historischen Architectur". 1721. Text: Left German, Right French.
Plate XIV
General age toning. Margins have some spotting. Pleat running from top to bottom through the middle.General condition better than good.
Sheet size 36 x 51 cm (9.1 x 20.1")
$ 375.00
Order Nr. CHINA 1485