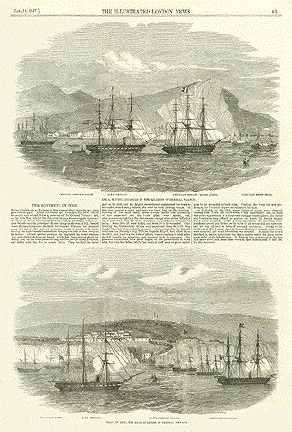 Upper image: Arica, in Peru, attacked by the Squadron of General Viranco.
British Consul's House, H.M.S: Tribune, Peruvian frigate-boats firing, Peruvian store-ships.
Lower image: Islay in Peru, the headquarters of General Viranco.
Merchant ships, H.M.S. Tribune, Boats landing troops, Peruvian Squadron.
Wood engravings on a page dated Jan. 24, 1857.
Article (in English) between images describes the fighting and problems of the time.
On the reverse side is the rest of the article and other articles not related to this subject.
A few light spots in lower margin.
Page size: 40 x 27 cm ( 15.7 x 10.6 ")
$ 45.00
Order Nr. PERU2912