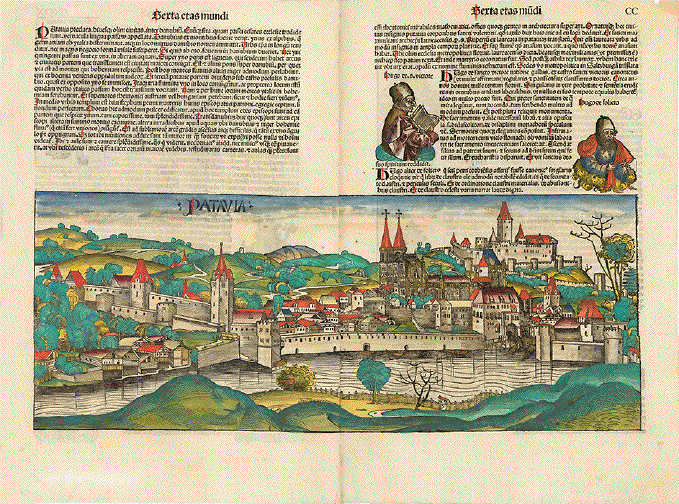 Schedel - Passau
"Patavia". Passau
General view of the important city on Danube, Inn and Ilz.
Type of print: Woodcut
Color: Excellent original hand coloring
Published in: Nuremberg Chronicle ("Weltchronik" (Liber Chronicarum)
Author: Hartmann Schedel.
Published: Nuremberg, 1493 (first edition)
Text: Latin. Relating text print above image and two portraits on right side.
Verso: Five portraits on left side, four portraits on right side. Portrait-relating text print.
The first ever printed large view of Passau.
Condition: Very attractive hand coloring! The two halves joined together perfectly, the joining reenforced vertically with a strip of paper of incunabula time. Woodcut had once been framed or kept in a matting. There are traces of hanging print in the extreme upper left and right corners. Light general age toning gives the woodcut the desired patina. Lower left corner has irrelevant crease outside image. Other minimal traces of age in margins.
Page size: 42,2 x 57,5 cm (ca. 16.6 x 22.6").
Image: 19,8 x 51.5 cm (ca. 7.8 x 20.3").
Order Nr. SCHEDEL239063SOLD
reverse side: