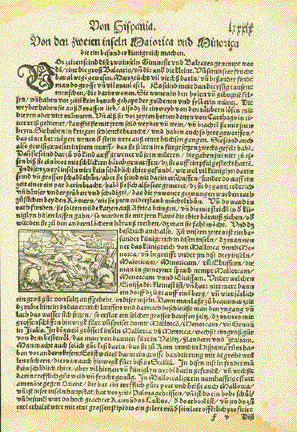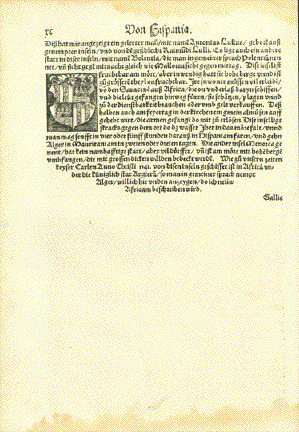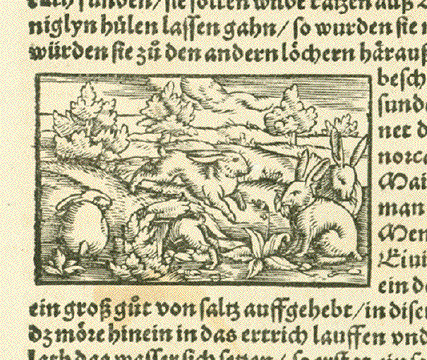 Mallorca & Menorca
"Von den zweien inseln Maiorica und Minorica"
Artikel mit einem kleinen Holzschnitt von Hasen auf den Inseln und dem Wappen der Balearen
Aus "Cosmographia" von Sebastian Mue
nster (1488-1552)
Deutsche Ausgabe
Basel, 1553
Ein liebenswerter Artikel über die Lieblingsinsel der Deutschen, Mallorca, und auch über Menorca.
Lesenswert und eine kleine Kostbarkeit. Vermutlich gab es damals, vor jetzt
beinahe 500 Jahren, eine grosse Hasenkolonie auf den Balearen.
Die Schrift ist ebenfalls in Holzschnitt geformt gedruckt worden, mit ihrer klaren und gut lesebaren Buchstaben.
Das Blatt gehört in der "Cosmographia" zu der Abhandlung über Spanien und ist überschrieben:"Hispania"
Untere und obere Margen haben Wasserrand, der allerdings den Text nicht beeinträchtigt.
**********
Adorable article worth readng about Mallorca and Menorca.
There must have been a large rabbit colony on the islands when this article was wrtten 500 years ago.
The written text letters and images are woodcuts.
This page was in the German edition of "Cosmographia" by Sebastian Muenster (1488-1552)
Published in Basel, 1553.
On the upper and lower edges are water stains. The text is clean and clear.
Seitengrösse/Page Size: 28,5 x 19 cm (11.2 x 7.4")
$85.00
Order Nr. ESPAÑA253434