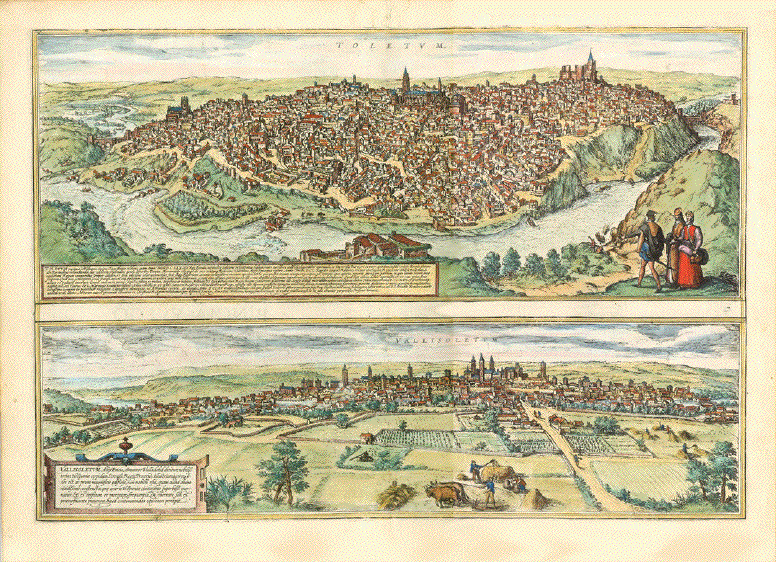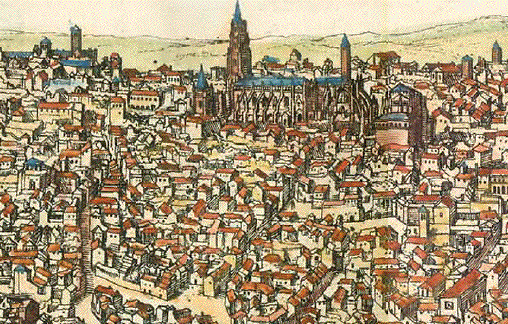 Toledo. - "Toletum" and Valladolid, - "Vallisoletum"
These proud Spanish cities, here titled with their old Latin names, printed on one book page.
Beautifully hand-colored copper etchings
Published in "Civitates Orbis Terrarum"
By author and publisher Georg Braun (1541-1622) and engraver and publisher Frans Hogenberg (1535-1590)
Cologne, 1582
Toledo, what a beautiful and very detailed half bird's eye view of this city, important in ancient and in modern times!
And an impressive panorama view of Valladolid in the province of Castilla-Leon in the north of Spain
The "Civitates Orbis Terrarum" 5 volume work belongs to the most impressive books, depicting very attractively the most important cities of the 16th century world.
Reverse side; Accompanying text in Latin. Light and pleasant age patina.
Vertical centerfold has been reinfoced on the reverse side.
Repair in upper margin on centerfold.
Toledo: 18,4 x 47,4 cm (ca. 7,2 x 18.6")
Valladolid: 13,4 x 47,4 cm (ca. 5.3 x 18.6")
Sheet size: 39,5 x 51,8 cm (ca. 15.5 x 20.4")
Order Nr. ESPAÑA253821SOLD