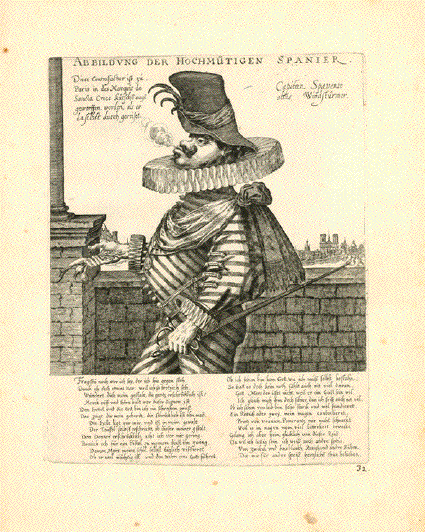 "Abbildung der hochmütigen Spanier. Diese Contrafactur ist zu Paris in des Marquis de Sancta Croce Kutschewage geworffen worden, als er da selbst durch gereiset. Capitan Spavento alias Windsturmer."
Image of a man representing arrogant Spaniards as it was cast into the coach of the Marquis de Sancta Croce, as he was traveling through Paris.
Captain Spavento = Captain Terrible also named Windstormer
Refers to: Alvaro de Bazan Marquis de Santa Cruz (1526-1588)
of an old noble Spanish family. Spanish Navy Commander
The "arrogant" Spanish figure on this anonymous German copper etching is well known from the Commedia dell'arte. He holds in his outstretched right hand: Radish, onion and garlic, which are referred to in the 24 lines satirical poem in the German language. A cloud protruding from the Spaniard's mouth indicated bad odor deriving from enjoying the taste of the vegetables shown in his hand.
Backdrop is a view of Paris (Notre Dame).
Printed ca. 1635
Light general age toning, very few traces of age and use. Condition is very good. Watermark.
Image without poem: 21,3 x 21 cm (ca. 8.4 x 8.3")
Image including poem: 27 x 21 cm (ca. 10.6 x 8.3")
Page size: 37,3 x 29,5 cm (ca. 14.7 x 11.6")
Order Nr.ESPAÑA242681SOLD