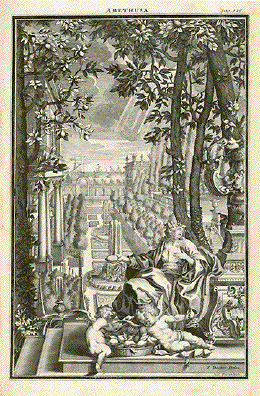 "Arethusa"
Copper etching by Ludwig Christoph Glotsch after the drawing by Paul Decker sen. (1677-1713).
Published in Johann Christph Volckamer's "Nuremberg Hesperides" 1708/13. as a second title.
Arethusa was one of the hesperides (nymphs) in Greek Mythology. She was considered the guardian of citrus fruit. The Hesperides tend a "blissful garden" in the farthest western part of the (then known) world. There are various places named by antique historians and poets. The Canary Islands, however, were the farthest west known in the antique world. Other sources state north-west Africa (Atlas) to be the place.
The Hesperides were also called Heras's orchard in the west. There immortality-giving golden apples grew. One of Hercules' twelve labors was to bring back the Golden Apples from the Garden of the Hesperides.
Volckamer adorned his stunning garden book with citrus fruit (in Nuremberg and in Northern Italy). This engraving of great beauty is a title page in his work, dedicated to Arethusa. The nymph is sitting in the Hesperide Garden holding a citrus fruit in her hand. Two winged putti by her feet on either side of a basket full of citrus fruit.. A classical garden with fountains is the scene behind, and in the far distance lively traffic of sailships.
Left and right margins have been widened. Some very minor traces of age and use. Image very good!
30.5 x 19.5 cm (12 x 7.6")
$ 750.00
Order Nr. HESPERIDES235558