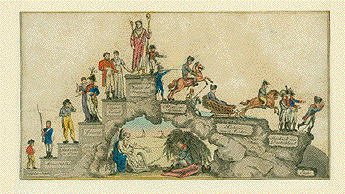 "Napoleon in his stages of life"
Anonymous copper etching, typically depicted on up- and downward steps. German text. Original hand coloring. Ca. 1825/30.
The ironic inscriptions: Corsican boy - Military Student - Chevalier of fortune in Paris - General - First Consul - Emperor to the French - Retreat from Spain - Return from Moscow - Farewell to Germany - The End.
Print is cut to edges of image. Mounted on cardboard. Several vertical and horizontal creases. The condition is generally poor and yet an interesting piece.
15 x 18.8 cm (5.9 x 7.4").
$ 240.00
Order Nr. NAPOLEON9051