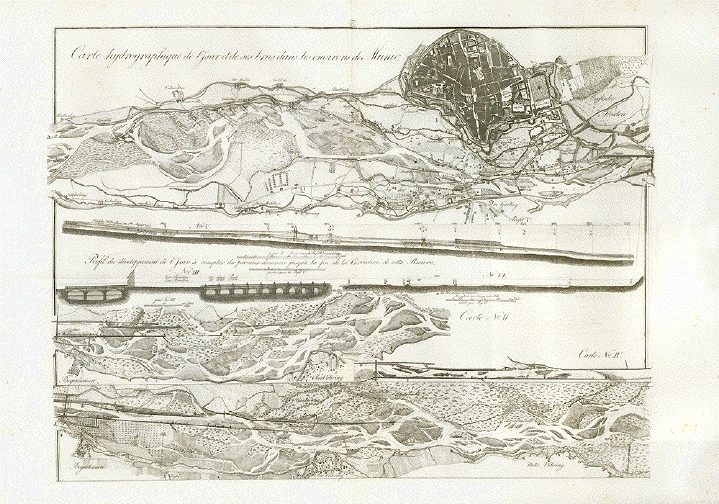 "Carte hydrographique de l'Isard et de ses bras dans les environs de Munic"
Hydrographic map of the river Isar and its branches within the City of Munich -
Hydrographische Karte des Laufs der Isar und ihrer Nebengewässer im Stadtbereich von München
Charts / Maps / Karten II, III, IV and VI on this folio page all engraved on one single plate in this sequence - from top:
Chart VI - City plan of Munich and the run of the Isar river from Thalkirchen / Harlaching past the city of Munich to the English Garden.
Chart III shows bridges and viaducts
Chart II shows river run with regulation plans from Bogenhausen to Oberföhring
Chart IV shows river run with alternative regulated river run from Bogenhausen to Unterföhring
Copper etching after the drawings by Carl Friedrich von Wiebeking (1762-1842)
Wiebeking, a very famous engineer for waterways, bridges and river regulations
was chief engineer in the Kingdom of Bavaria and designed the regulation plans of southern Bavarian rivers, such as the Isar.
Vertical centerfold. Very few very minor traces of age or use: Very good!
Image: 48 x 64 cm (ca. 19 x 21")
Sheet: 57 x 85 cm (ca. 22.5 x 33.5")
$ 750,00
Order Nr. MUNICH240566