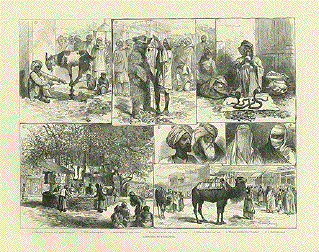 Sketches in Peshawur
1. Intinerant showman with performing goat. 2. With a dancing bear. 3. Snake charmer with cobras. 4. Peepul-tree in the city used as a shop. 5. Hillmen, father and son. 6. Women wearing the "borka". 7. A Bactrian camel.
Wood engraving from an illustrated work dated 1885. Reverse side is printed.
22.8 x 30.5 cm ( 8.9 x 12 ")
$ 120.00
Order Nr. PAKISTAN20010SOLD