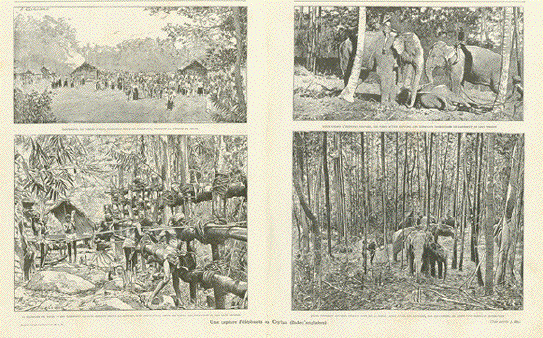 "Une capture d'elephants au Ceylan ( Indes anglaises )"
Upper left image: "Campement, en pleine Jungle, construit pour les Europeans, pendant la Periode de Kraal"
Lower left image. "La Palissade du Kraal. - Les Elephants Affoles VeulmenBriser la Cloture, mais des
Hommes, Armes de Piques, les Effrayent et les Font Reculer"
Upper right image: "Pour calmer L'Elephant Sauvage, Qui Vient D'Etre Capture, Les Elephants Domestiques le Garessent de Leur Trompe"
Lower right image: "Jeune Elephant Sauvage Conduit Hors de la Foret, Apres Avoir Ete Attache,
par les Cordes, au Corps d'Un Elephant Domestique"
Double page with wood engravings made after photographs, 1894. Reverse side is printed with unrelated text.
Vertical centerfold has been reinforced. A few minimal holes in lower right image.
30 x 49 cm ( 11.8 x 19.2 ")
$ 120.00
Order Nr. SRILANKA248764