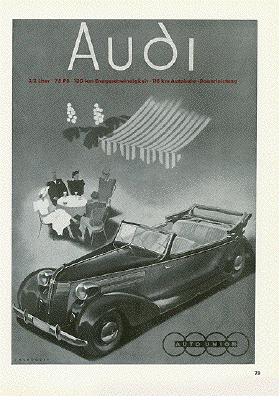 "Audi." Audi 920. 3,2 l - 75 PS - 130 Km top speed.
Advertisment.
Published in a German magazine 1938
Designer: V. Mundorpf
Minimal traces of age and use. Reverse side has pictures of Women in Belgrade, Serbia: Koasara Stojadinovic, Daniza Tomic, Mrs. Krstic, OLga Ilic. Visible erasement of formerly penciled print sales price in lower right corner.
Image: 29,5 x 20,8 cm x 23,5 cm (ca. 11.5 x 8.2")
Order Nr. AUTOMOBILE243331 SOLD