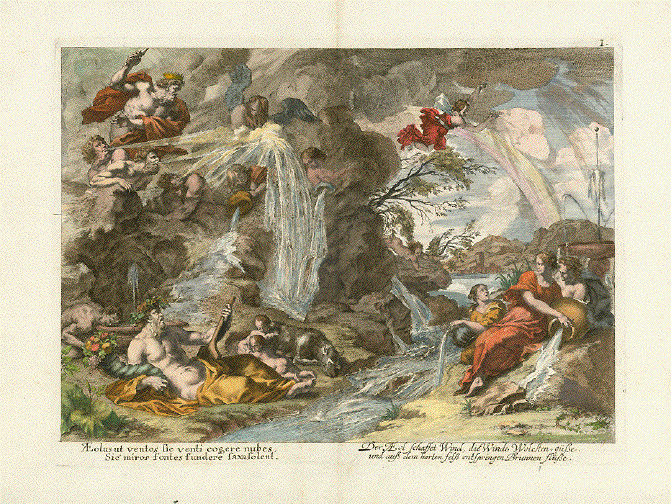 "Der Aeol schaffet Wind, die Winde Wolkengüsse und aus dem harten Fels entspringen Brunnenflüsse"
In Latin: "Aeolus ventos sic venti cogere nubes, Sic miros fontes fundere faxasolent"
In English: Aeolos creates the winds, the winds create downpours and from the rocks emerge waterfalls
Anonymous copper etching. Original hand coloring.
A perfect example for wind power and hydro (water) power Windenergie ind Wasserkraft.
Aeolos (Aeolus) God and ruler of winds in Greek mythology. Married to Eos (Goddess of Aurora, he was assigned to be the Lord over all winds: Boreas (North Wind), Euros (South-East Wind), Zephyros (West Wind) and Notos (South Wind)
Light general age toning. One crease parallel to centerfold not very visible.
Some spotting and signs of age in margins.
Image: 22,5 x 32 cm (ca.8.8 x 12.6")
$ 180.00
Order Nr.MYTHOLOGY243212