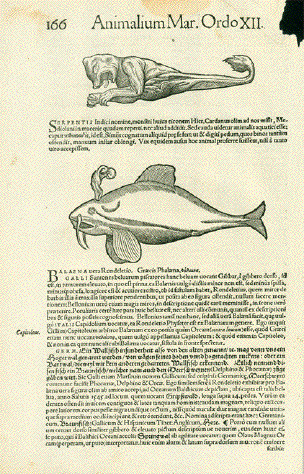 "Animalium Mar. Ordo XII." Page 166
"Balaena vera Rondeletio:::"
German: Hogerwal
Woodcut. Published in "Historia animalism lib.IV qui set de piscium et aquatalium nature".
By Conrad Gessner (1515-1565)
Zurich, 1558
Above this woodcut a woodcut of a bizarre mythical creature, half animal, half sea monster ("Indian serpent"). Brethmechin mythical creeature. Text for it begins page 165
Condition: Paper had a fold at printing time which led to wrinkled and enlarged page size in upper right corner. (see scan). Only minimal other traces of age and use.. Reverse side has text print and a little woodcut.
Page size 34 x 22 cm (ca. 13.4 x 8.7")
$ 160.00
Order Nr. DOLPHIN/WHALES252706