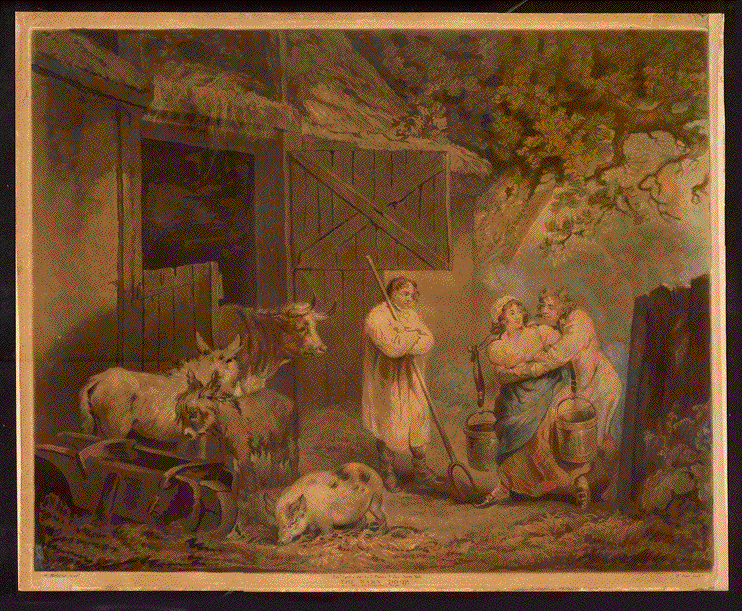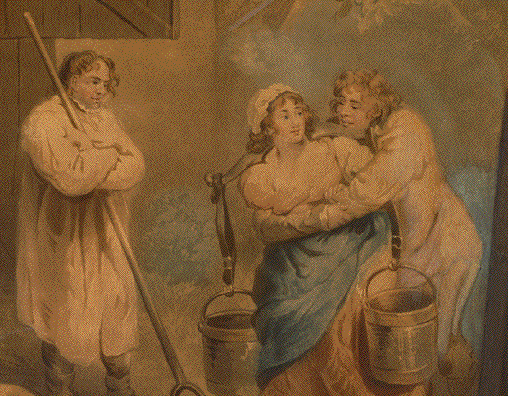 "The Barn Door"
Mzzotinto engraving. Printed in color and hand-finished.
Engraver: William Ward (1766-1826)
Painter: George Morland (1763-1804)
Publisher: T. Simpson. London, dated 1792
Rustic scene, typical for George Morland. albeit he goes slightly into erotic happenings. A farm boy catches and embraces the milk maid from behind. Her welcoming smile is suggesting only flimsy objection as he reaches unscrupulously for her bosom, while the stable help is watching the forward approach of his pal with openly displayed envy. From out the open barn door a cow observes the scene with little emotion, while two donkeys couldn't care less and a sow forages the ground contently.
The print has been mounted on cardboard. Right margin added. The print had obviously been framed and had decorated a wall space somewhere for some time.
By mounting a print on a cardboard it looses some value. Passing time and the fact that this print had been exposed to air and light for long has also diminished its value. Taking this into account we have discounted the value of this print. Since it is a genuine rural Morland scene it is, at this reduced price, a wonderful bargain
44,5 x 55,8 cm (ca. 17.5 x 22")
$ 500.00
Order Nr.EXCLUSIVE224619