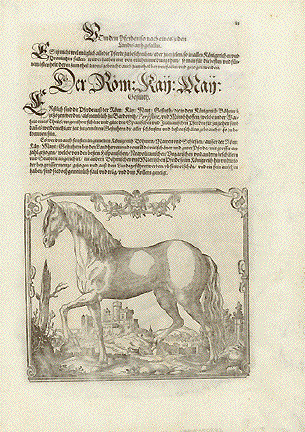 ___________
Reverse side:
"Von den Pferden so nach eines jeden Landesart gefallen". Edles Pferd aus Kaiserlichem Stall ( noble horse from a royal stable )
Holzschnitt ( woodcut ) aus "Della Cavalleria"
Von Georg Engelhard Löhneysen (1552-1622)
Gut Reimlingen (bei Braunschweig), 1609. Dort hatte Löhneysen seine eigene Druckerei eingerichtet
"Della Cavalleria" war ein reich mit Holzschnitten und Kupferstichen illustriertes grossformatiges Buch über alle Belange des Reit-Tourniersports, der Pferderassen, Pferdekunde und -pflege und Pferdemedizin.
"Della Cavalleria" was a famous work full of woodcuts and copper engravings
about horses and riding, horse tournaments and horse medicine.
Aus diesem Werk dieser eine Holzschnitt mit diesem edeln Pferd. Auf der Rückseite Text:
"Von den Türkischen Pferden" ( Of Turkish Horses )
Drei Wurmlöcher im Text. Die Margen teils fleckig. Der umsignierte Holzschnitt selber sehr schön.
Three worm holes in text. Some smudging in margins.
The unsigned woodcut of the horse is very nice.
Image of horse:18,5 x 21,3 cm (ca. 7.3 x 8.4")
Die volle Seite / Full page: 43 x 30,5 cm (ca. 16.9 x 12")
$ 270.00
Order Nr. HORSE250892