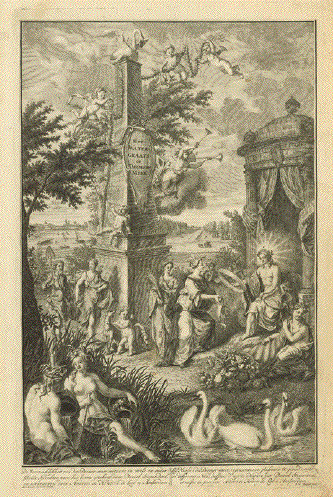 Amsterdam. - "Het Watergraafs of Diemer Meer"
Copper etching frontispiece for a book by the above title.
Engraver Johann Wilhelm Winter Drawing by: Adolf van der Laan
Publicized: Amsterdam, 1725
Very attractive allegorical fromtuspiece. Two nymphs in foreground symbolize the rivers Amstel and Nieuwe Diep. Watergraafs is a town residing on a polder, which is land won from the sea by diking it and drying it up. This began in the beginning of the 17th century. Thus land was won and a new city district of Amsterdam founded. It became an elegant part of town. The football club Ajax Amsterdam has its stadium there.
This elegant frontispiece is witness to the fabulous Dutch tradition of book printing.
Light general age toning. Narrow margins with minimal spotting all around.
31,4 x 20,7 cm (ca. 12.4 x 8.1")
$ 260.00 (Please look for discount at top of this page. Here 40% = $ 156.00.
Order Nr. HOLLAND254352