Het Groote Tafereel der Dwaasheid (The big painting of stupidity), vertoonende de opkomst, voortgang en ondergang der Actie, Bubbel Windnegotie, in Vrankryk, Engeland en de Nederlanden, gepleegt in den Jaare 1720...
As long as stock exchanges exist and as long as man is disposed as he ever was and is today, we have to acknowledge that fraud was on the mind of some of those who dealt in stocks. It was all too easy at a time of unsurveyable happenings far away from Europe for ruffian and unscrupulous stock dealers to sell "South Sea Bubbles" by promising incredulously exorbitant gains for their investment to unsuspecting, greedy stock buyers, with the result that they lost every penny, because often the "mines" and "companies" existed only fictionally.
It is remarkable that the here shown copper etchings, which depict with "Schadenfreude" and satirically the giant fraud to which stock buyers succumbed epidemically in the classical countries of stock trade: England, France and the Netherlands, was published anonymously (probably for fear of repraisel, but it became later known that Bernard Picart was the engraver). The consequence of the continued big fraud lead to inflation in 1720 and was an eathquakeal financial disaster in these countries. John Law, a Scottish financial theoretion, was suspected of being the main initiator of the windy business. Some of the prints show his portrait.
Central theme of these etchings was the windy stock speculation in the Netherlands, leading to calling stocks "winds". The greedy speculators are often depicted as fools , simpletons, dupes.
While this view is not a friendly approach to a serious business, these etchings clearly belong to the subject matter. The plates are very rare and have been sought by collectors over the years with serious determination
All prints have vertical centerfold, some scattered spotting and overall light age toning.
The prints are a bit darker than shown. Light browning along centerfolds.
Page size: 37,2 x 47.7 cm ( 14.6 x 18.7 ")
Image size (without text) given below.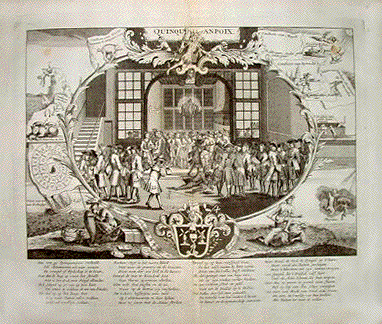 Quinquanpoix
24.5 x 35.5 cm (9.6 x 13.9 ")
$ 650.00
Order Nr. FINANCEEUROPE8107
---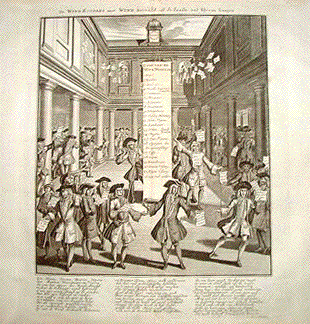 Der Wind Koopers met Wind Betaald of de laaste zal blyven hangen.
Repaired tears in upper and lower margins on centerfold.
29.2 x 25.8 cm ( 11.5 x 10.1 ")
$ 650.00
Order Nr. FINANCEEUROPE8108
---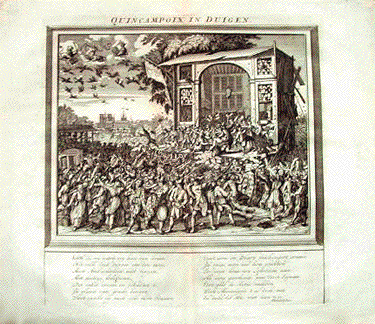 Quincampoix in Duigen
Tiny repaired tears in lower margin on centerfold.
24.5 x 30 cm ( 9.6 x 11.8 ")
$ 650.00
Order Nr. FINANCEEUROPE8109
---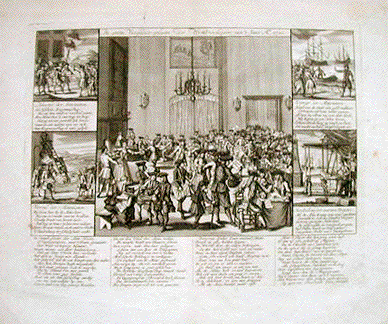 Der grôte Vergader-plaats der Windverkopers vant Jaar A. 1720.
Repaired tear in lower margin on centerfold.. Creases on margin corners.
21.6 x 33.8 cm ( 8.5 x 13.3 ")
$ 650.00
Order Nr. FINANCEEUROPE8110
---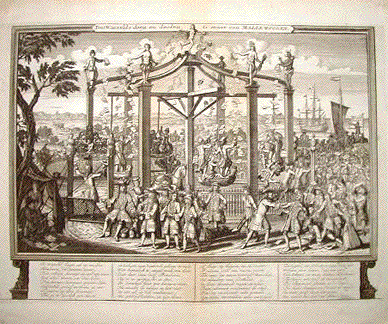 Des Waerelds doen en doolen, Is maar eenMalleMoolen.
26.2 x 40.7 cm ( 10.3 x 16 ")
$ 650.00
Order Nr. FINANCEEUROPE8111
---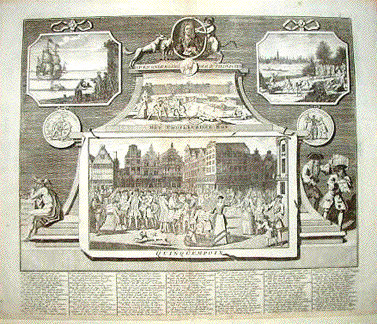 Op'en Ondergang Der Actieonisten
Het Thuilleriece Hof
Quinquempoix
Lower margin has been extended about 1 cm. Repair in text area on centerfold.
Small repair on upper margin edge on centerfold. Light creasing in lower left margin corner.
29 x 38 cm ( 11.4 x 14.9 ")
$ 650.00
Order Nr. FINANCEEUROPE8112