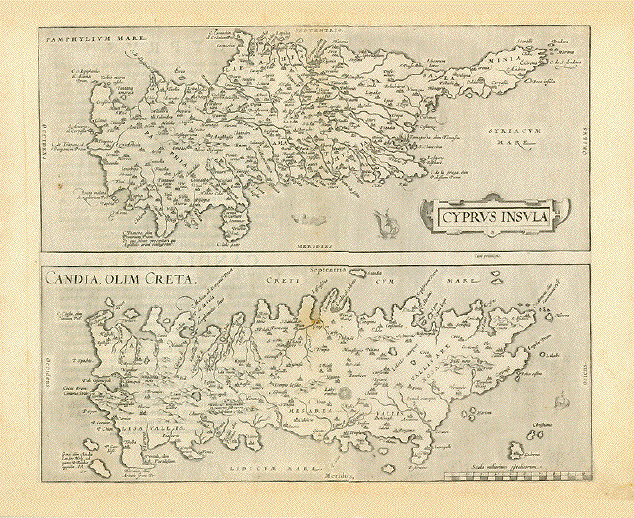 "Cyprus Insula" - "Candia, Olim Creta" (Cyprus and Crete)
This is a collectors' item!
Copper etching
Publisher: Abraham Ortelius (1527-1598)
Published in: First edition of "Theatrum Orbis Terrarum"
Page Nr. 39 - only in the first edition
Watermark: First edition watermark
Where: Antwerp
When: 1570
Reverse side text: Latin
Condition: Map has only few traces of age and use. Some foxing. General age toning.
Upper and lower margins have been widened, as in the first edition of the "Theatrum" margins were always narrow.
Two maps on one sheet
Cyprus: 18 x 43,5 cm (ca. 7.1 x 17.1")
Crete: 17,4 x 43,5 cm (ca. 6.9 x 17.1")
Entire sheet: 44,3 x 51,8 cm (ca. 17.4 x 20.4")
Order Nr. CYPRUSMAP238286SOLD