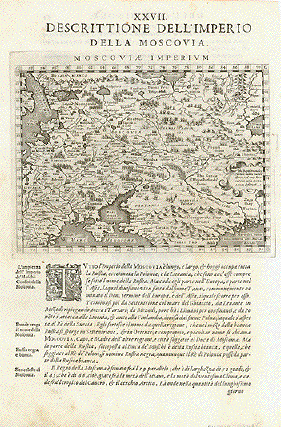 "Descrittione Dell'Imperio della MOSCOVIA".
Map includes Latvia, Livonia, Lithuania, the Ukraine,
Northern Part of the Black Sea and the Caspian Sea,
Siberia, Georgia, Azerbaijan, Kazakhstan
Type of print: Copper etching
Artist: Girolamo Porro
Published in: "Geografia cioe Descrittione Universale della Terra"
Publisher: Gio. Battista & Giorgio Galignani Fratelli
Edition: Italian edition
Editor: Giovanni Antonio Magini (1555-1617)
Text: Italian. Complete on front and reverse side
Published in: Venice. Date: 1598
Measurements:
Map size: Ca. 12,5 x 17 cm (ca. 4.9 x 6.7")
Page size: Ca. 28,5 x 19 cm (ca. 11.2 x 7.5")
Condition: Near perfect. Very minor traces of age.
Price: $ 280.00
Order Nr. RUSSIAMAP238495