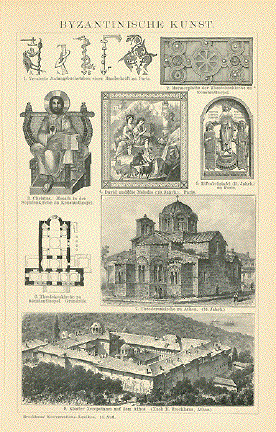 "Byzantinische Kunst" ( Byzantine Art )
In the upper right is a marmor slab in the Theotokos Church in Constantinopel. The Christus on the left side is a mosaic in the St. Sophia. The faramed image is David and Melodie in Paris. On the lower right side is the Theodoros Church in Athens. At the bottom is the Monastery Xeropotamu on Athos.
Wood engravings 1894. Overall light age toning.
20.5 x 13 cm ( 8 x 5.1 ")
$ 35.00
Order Nr. GREECE241369