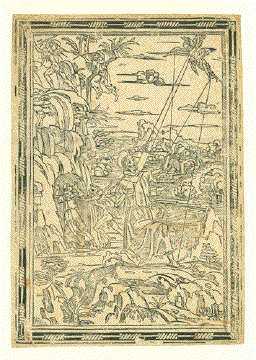 St. Francis from Assisi receives stigmatization from Christ, the marks
of Christ's crucifixion
Type of print: Woodcut (single print - not published in a book)
Artist:Anonymous
When printed: Ca. 1480/1500
Where printed: Italy???
Measurement: 40,5 x 28,5 cm (15.9 x 11.2") Sheet size is only minimally larger
Rarity: Extremely rare. Probably no other copy on the market
Condition: The woodcut is printed on heavy hand-masde paper.
Image imprint is very good. The bordure is partially printed
faultily. Paper has uneven age toning and some foxing. To be seen
only on reverse side: a circular waterstain. Also on reverse side:erased auction number (pencil).
Condiering the age of ca 500 years, this woodcut is in near Very Good condition
While St. Francis is fasting and praying for forty days on a mountain
called La Verna (Alverna), he receives the stigmata from Christ
appearim him as a six-winged seraph, In the distant valley: Assisi is
seen with the church "San Francesco".
Although the periphery in this woodcut differs substantially from the
painting by Giotto di Bondone (1266 - 1337), the way St. Francis is
depicted in this woodcut, kneeling, with spread arms and with the
six-winged Jesus Christ radiating His wounds to St. Francis, allows the
assumption that the anonymous artist of this woodcut was a master
familiar with the Giotto painting. While giving the woodcut a distinctly
diverse surrounding, the artist copied the depiction of St. Francis and
the action of the stigmatisation from Giotto. The woodcut was made ca.
200 years after Giotto's painting (done in 1300), while the painting
was still in Florence (before it was acquired by the Louvre in Paris).
$ 750.00 minus 40% Discount = $ 450.00
Order Nr. SANTO234575
----------
Der Hl. Franziskus von Assisi empfängt die Stigmatisation von Christus, der als sechsflügliger Seraphim am Himmel erscheint.
Druckart: Holzschnitt (Einblattdruck)
Künstler:Anonym
Wann? Ca. 1480/1500
Wo? Italien?
Maße: 40,5 x 28,5 cm. Der Papierbogen ist nur unwesentlich grösser als der Druck der Darstellung
Häufigkeit: Extrem selten! Kaum ein weiteres Exemplare im Handel.
Zustand: Der Holzschnitt ist auf festes, handgemachtes Papier
gedruckt. Der Abdruck ist in der Darstellung sehr gut. Die Bordüre ist teilweise etwas flau im Abdruck.
Das Papier hat eine ungleichmässige Alterstönung.
Einige Stockflecken. Nur von rückwärts erkennbar: ein kreisrunder Wasserfleck.
Ebenfalls rückseitig: Radierte Auktionsnummer in Oval (Bleistift).
Für das Alter: Nahezu sehr gut
Franziskus, der sich mit einigen Mitbrüdern zu einem 40-tägigem Fsten
und Beten auf den Berg La Verna zurückgezogen hat, empfängt kniend seine
Stigmatisation von Christus, der am Himmel in Gestalt eines
sechsflügeligen Seraphim erschein. Im Hintergrund die, im Tal erkennt
man die Kirche "San Francisco" in Assisi.
Dieser anonyme Holzschnitt basiert auf einem Gemälde von Giotto di
Bondone (1266-1337). Das Gemälde (Kapelle von Bardi) entstand im Jahr
1225. Giotto malte dasselbe Thema noch einmal im Jahr 1300 (jetzt im
Louvre). Und dieses zweite war wohl die Vorlage für den Künstler des
vorliegenden Holzschnitts. Auch wenn die landschaftliche Szene abweicht,
so ist doch die Darstellung des Heiligen Franz deutlich Giotto
nachempfunden. Giotto war ein Zeitgenosse des Heiligen Franziskus. Der
Holzschnitt enstand ca. zweihundert Jahre später
$ 750.00 minus 40% Discount = $ 450.00
Order Nr. SANTO234575