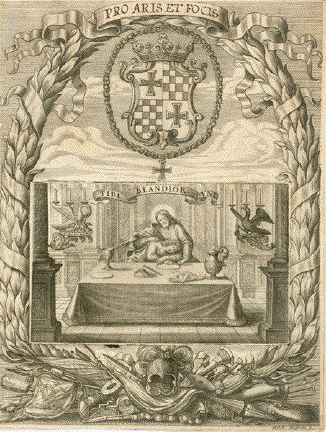 "Pro aris et focis"
Motto meaning: For God and country (the literal translation is: For altar and hearth)
This motto has been widely used by noble families, by universities, by military regiments. It is the motto for the American Legion. It has been used on coins and seals. It was even the code for the killing of Osama Bin Laden.
Furthermore on this print we find in a ribbon above Jesus, who is holding St. John in his arms, other Latin words: "Tibi Blandior Uni". These come from a verse by Ovid's Ars Amatoria (the Art of Love). The complete citation is: "ÉTe nimnum lentum timeo, tibi blandir uniÉ"
Yet another Latin verse is found in a ribbon below the swan and her cygnets:
"Non est Amor, sicut Amor Meus". These are the words of Jesus: "There is no love like my love".
Under the motto a crown and coat of arms and blow that a biblical scene, Jesus and John at a supper table with bread (cut in half) and wine. The entire scene embraced by two ears of wheat or rye. At bottom a conglomerate of military items and a flag with the double eagle.
Copper etching by Melchior Haffner II. (1660-1704). Augsburg, ca. 1690.
Print has been trimmed to plate mark. On the left side a tiny nick and a small tear.
18 x 13.5 cm (ca. 7 x 5.3")
$ 120.00
Order Nr. JESUSCHRISTUS243144