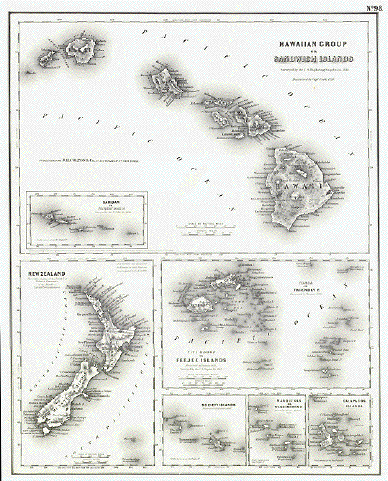 "Hawaiian Group or Sandwich Islands"
"Samoan or Navigators Islands"
"New Zealand
"Viti Group or Feejee Islands - Tonga or Friendly Islands"
"Society Islands"
"Marquesas or Wahington Islands"
"Galapgos Islands"
Typy of print: Wood engraving
Artist: Anonymous
Publication: Unknown
When printed: Ca. 1855
Where printed: Unknown
Reverse side: Text print related to the Hawaiian Islands in English. Other text passages are relating to other not shown islands in the Pacific
Condition: Clean. A very small repaired ear in bottom margin. Bottom margin is narrow. Very minor traces of age and use.
All maps enclosed in measurement. Hawaii takes the upper half of page. 36,8 x 29,6 cm (ca. 14.5 x 11.6")
$ 80.00
Order Nr. HAWAII238824