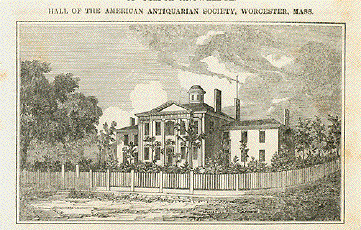 "Hall of the American Antiquarian Society, Worcester, Mass."
Wood engraving.
Published in "American Magazine of Useful and Entertaining Knowledge"
Boston, 1835
The magazine was a monthly published only between 1834 and 1837
It featured illustrated articles on American animals, plants, natural scenery, colleges, banks, hospitals, churches, cities etc.
The engraving is, unfortunately missing the lower half of the page, so that only part of the article is preserved. Light foxing in margins. Crease in upper right corner.
Image: 9,2 x 14,7 cm (ca. 3.6 x 5.8")
The semiannual meeting of the American Antiquarian Society will be held April 19 - 21 2012 in Boston, MA
$ 60.00
Order Nr. MASSACHUSETTS237238