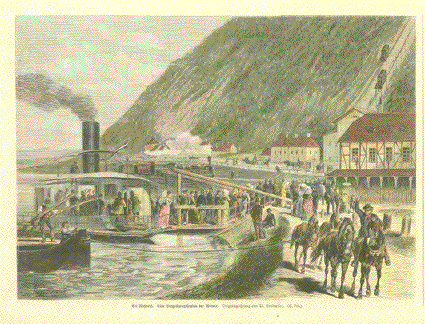 Nussdorf / Wien (Vienna). - "Bei Nussdorf. Eine Vergnuegungsstation der Wiener".
Nussdorf, heute ein Stadtteil von Wien, war ein Ort, wohin die Wiener genre Ausfluege machten. (Viennese excursion place).
Handkolorierter Holzstich nach der Zeichnung von Theodor Breidwiser (1847-1930)
Hand-colored wood engraving after the drawing by Theodor Breidwiser (1847-1930)
Nussdorf, a place where the Viennese liked to go by boat on the Danube (Donau) or by train for an excursion on a weekend. Neben dem Vergnuegungsdampfer sehen wir ein Vierergespann Arbeitspferde, die ein Frachtboot treideln.
Next to the Danube (Donau)-steam ship we see a freight boat being towed alongside the bank of the Danube (Donau) by four horses.
Im Hintergrund sehen wir die Kahlenbergbahn, die erste Zahnradbahn Österreichs von Nussdorf, Grinzing, Kahlenberg. Sie wurde 1874 eroeffnet.
Papier leicht gebraeunt.
22,3 x 21,5 cm
$ 80.00 (Discount minus 40% = $ 48.00 - Umrechnung in Euro zum Tageskurs)
Ordert Nr. AUSTRIA256355