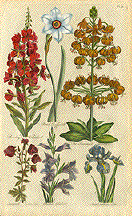 The Twostag´d Martagon, Strip´d
bulbous Iris, Oriental Gladiole,
Inverted Columbine, Rosebay,
Willowherb, Poetick Daffodill.

Crease in upper left corner, rubbing
in lower right margin.
Order Nr. H6109 SOLD
******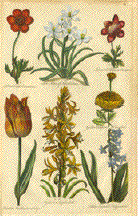 Double Crimson Anemone,
Golden Proliferous Crowfoot,
Blue Oriental Hyacinth, Yellow
Asphodell, Painted Amethystine
Tulip, Blood red Anemone,
Lon Star of Bethlehem.
Heavy browning in margins, small crease in tulip.
Order Nr. H6110SOLD
******