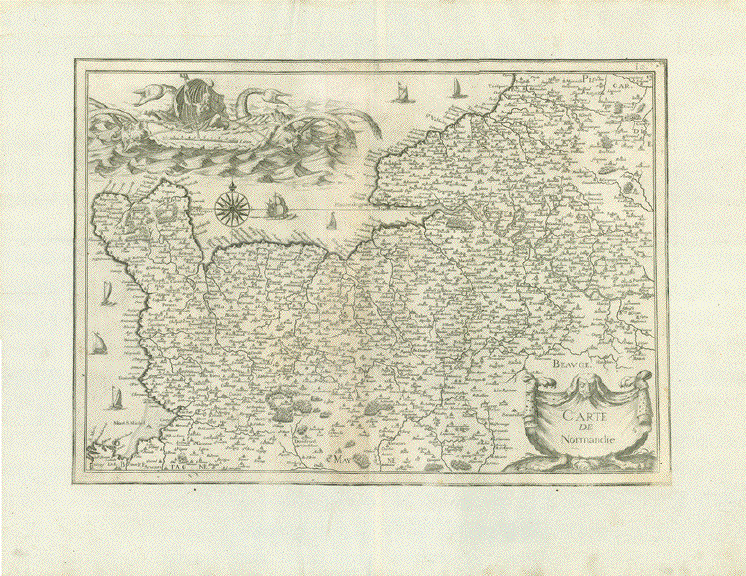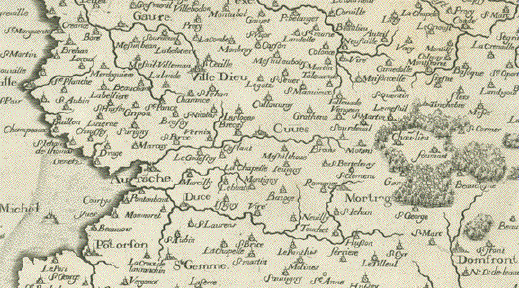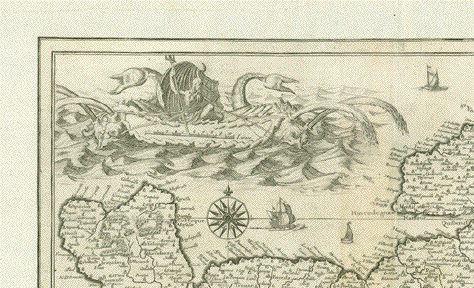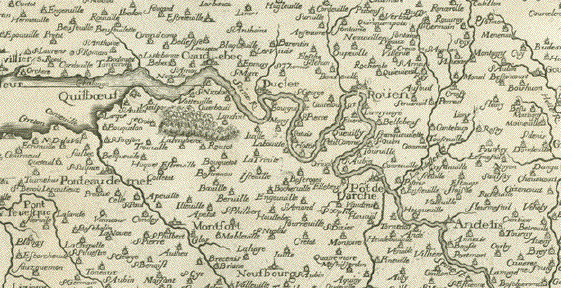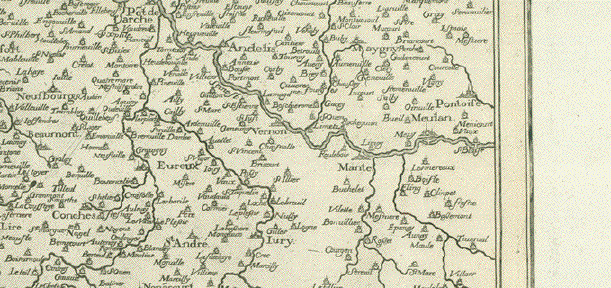 "Carte de Normandie"
Copper etching. with a lion holding the title cartouche.
Map has no author's address nor any other publisher's address.
This map was first created by Christoph Nicolas Tassin (date of birth not known- 1660)
His atlas of the provinces of France was published in Paris in the year 1633.
Tassin's map of Normandy differed from this exemplar: It did not have Neptune riding the waves on two sea monsters, it did not show all the sailing ships, and the wind rose was placed further north, about where there is the mileage cartouche with Neptune and the sea monsters on our map. Identical is the the geographical area shown and the the title cartouche in the lower right corner with the lion holding it, except for the missing mileage measurement, which is placed below Neptune on our map.
In the year 1644 Tassin sold his copper plates and his copy right to cartographer Antoine de Fer.
We could not find any description of our map anywhere. And we are uncertain whether de Fer has added the Neptune / sea monster cartouche to the Tassin map. Since it is known, that de Fer bought the Tassin copper plates it is likely that our assumption is correct de Fer being the publisher of this map. Paris ca. 1660. Any information about our assumption will be appreciated.
Condition. Map was cut to black borderline and professionally laid down on very large paper 17th century paper, probably exactly the size necessary to fit the size of a collector's atlas. Two mirrored worm holes, round and small, one in the utmost lower left corner of map, the opposite outside image, and two mirrored worm holes in the lower margin support our assumption that the map was bound in a book. Some light browning left of centerfold.
Light creasing in upper and lower margins.
Map: 31.6 x 51.6 cm (ca. 12.4 x 20.3")
Overall measurements: 50.7 x 65.5 (ca. 20 x 25.8")
$ 580.00
Order Nr. FRANCEMAP250902