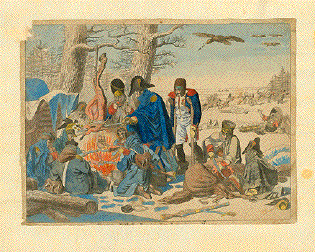 No Title
Copper engraving in original hand coloring ca 1820. Original mounting on very old paper.
Print shows Napoleon and his soldiers roasting fowl while in the lower right a soldier cutting up a horse cadaver for roasting. In the background is fighting and some dead fighters.
This print has a missing piece in upper left corner. Small border is frayed. Background paper is creased and spotting.
The print is seldom and shows a special Napoleon scene.
Image: 16.5 x 21.5 cm ( 6.4 x 8.4 ")
Order Nr. NAPOLEON235447 SOLD