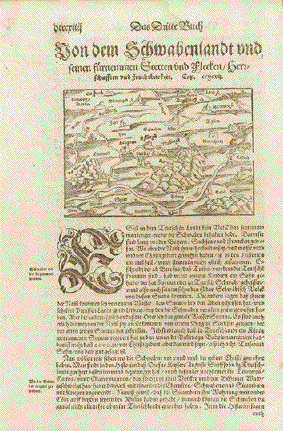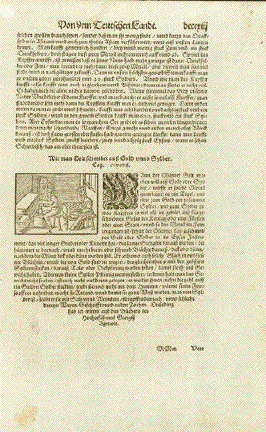 "von dem Schwaben land unnd seinen fuernemen Stätten unnd flecken / herrschafften und Fruchtbarkeit"
At the top of this south oriented map are Ansbach, Augsburg, Memmingen,
Zuerich, Basel Strasbourg, Speyer, Worms, Mainz and the run of the river
Main are in the lower part of the map. Black Forest in center of map.
Published in "Cosmographia" by Sebastian Muenster (1488-1552) German edition.
Basel, 1553
Above and below map and on reverse side title and text in German
Reverse side has woodcut about gold and silver production.
General age toning. a few foxing spots. Basically very good condition.
Map: 9 x 13,4 cm (ca. 3.5 x 5.3")
Reverse side image of gold and silver production: 7,7 x 13 cm (ca. 3 x 5.1")
Page size: 30,5 x 20 cm (ca. 12 x 7.9")
$ 130.00
Order Nr. DEUTSCHLAND250409