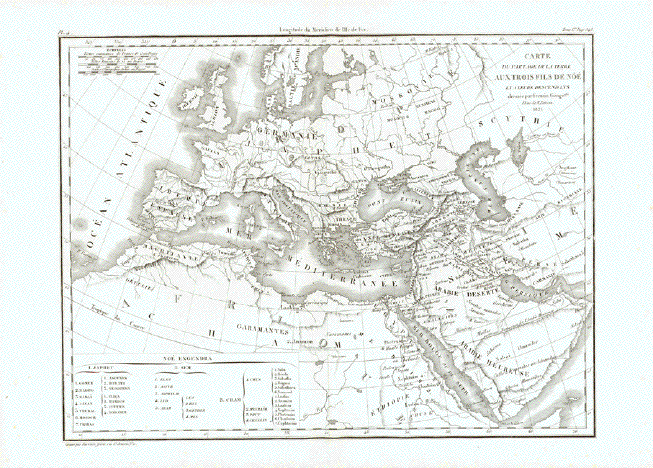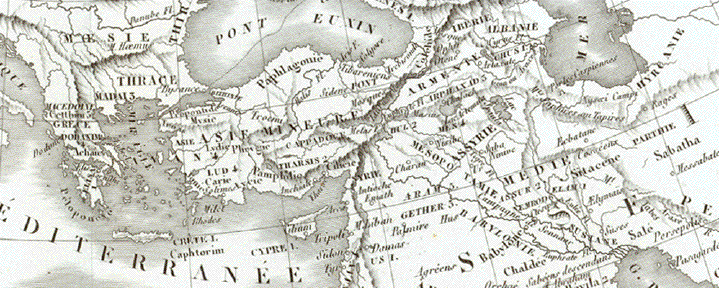 "Carte du Partage de la Terre Aux Trois Fils de Noe
et Leurs Descendents dresee par Fremin, Geogr. Eleve de M. Poirson, 1821"
Very interesting historical map of the regions inhabited by the three sons of Noah.
Noah had three sons: Sem, Ham and Japheth. According to the Hebrew Bible (Genesis). After the biblical flood, they dispersed into different directions. And their descendants were named Semite, Hamites and Japhetites.
This map shows the regions of the world into which they dispersed. And in the legend at the bottom of this map we see the key for tribal names and according geographical aereas
In the lower left corner are the names Japhet, Sem and Cham and the
names of their sons and regions.
The names on the map are mostly Old Testament names,
Map is dated 1821 and engraved and published by Barriere and brothers in Paris.
Map is in very good condition. Vertical centerfold.
Image: 24 x 32 cm ( 9.4 x 12,5 ")
$ 90.00
Order Nr. MIDDLEEAST252743