Antique Owl Prints
A selection of decorative, historical owl prints. Each print is illustrated.
If you are looking for particular birds, please contact us. All prints are in
Very Good condition unless otherwise noted. A bit of age toning is natural
on all antique prints.
Sale! Discount!
40% Discount on All Prints with an OWL number on this page!
Take 40% off the listed price. !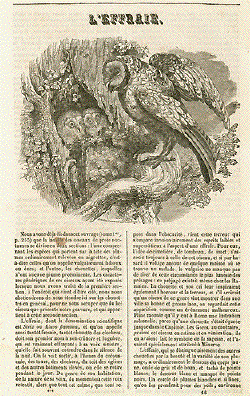 "L ' Effraie"
Wood engraving 1844. Below the image and on the reverse side is an
article in French about the barn owl.
Small spot in text.
Page size: 26 x 17 cm ( 10.2 x 6.6 ")
$ 30.00
Order Nr. OWL245865
---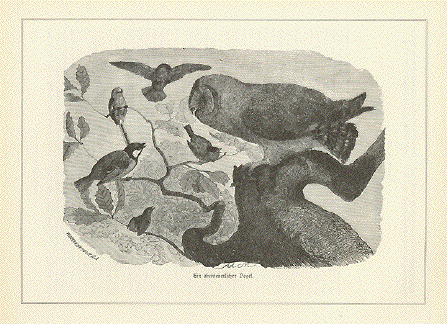 "Ein abendteuerlicher Vogel" ( an adventurous bird )
Wood engraving ca 1890. Reverse side is printed.
Image: 12 x 17.5 cm ( 4.7 x 6.8 ")
$ 20.00
Order Nr. Owl242692
---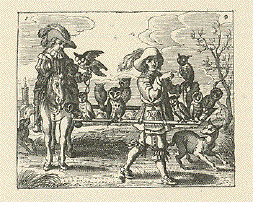 "Vieux Proverbes"
"Point Ne Feras de Hiboux Esperviers"
Wood engraving with text above and below the image.
Published 1874.
Image: 5.2 x 6.5 cm ( 2 x 2,5")
$ 25.00
Order Nr. OWL240792
---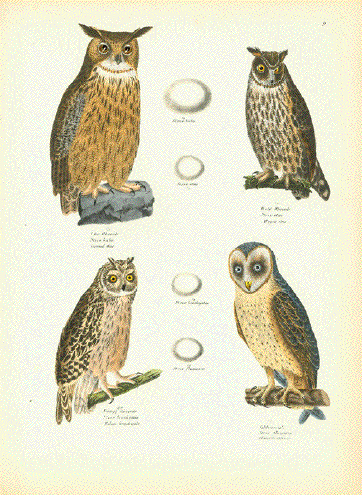 "Uhu Oreule Strix bubo Grand duc"
"Wald Oreule Strix otus Moyen duc"
"Sumpf Oreule Strix brachyolus Hibou brachyole"
"Schleiereule Strix flaumuica Chouette ...."
Lithograph by Carl Joseph Brodtman at Hans Rudolf Schinz in Zurich, Hanke ca 1854.
From" Naturgeschichte der Voegel", 2nd edition.
Impressive original hand coloring. Light natural age toning.
Page size: 30.5 x 21.5 cm (12 x 8.4")
$ 160.00
Order Nr.OWL253277
---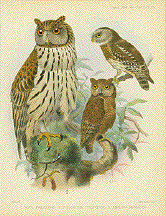 "1. Ninox Philippensis 2. Pseudoptynx Philippensis 3. Lempijius Megalotis" (Owls)
Lithograph by J. Smit. Published by Transactions Zoological Society. Printed by Hanhart. London, 1846. Very fine hand-coloring
Some age toning. Narrow margins show some wear and tear. Image itself in very good condition.
Sheet size: 31.3 x 24 cm (12.3 x 9.4")
$ 170.00
Order Nr. OWL67431
---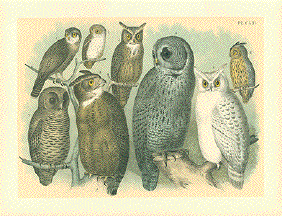 No title. Various, altogether eight owls.
Anonymous lithograph. No printing details, except plate number (CXIII) given. Mounted on cardboard. Printed in color. Ca. 1880
Clean.
22.5 x 31 cm ( 9.4 x 12.2")
Order Nr. OWL67433SOLD
---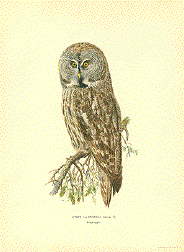 "Strix Laponica - Lapuggla" (Great gray owl)
Lithograph after a monogrammed artist (B.H.). Published by A. Broetzells. Stockholm, 1894Printed in color.
General light age toning..
37.6 x 27.8 cm (14.8 x 10.9")
Order Nr. OWL67432 SOLD
---
Familiar and Exotic Birds by Martinet
Game Birds by Martinet
Birds of Prey by Martinet
Rare Bird Prints by Goldfuss
************
Terms of Sale - Lieferbedingungen
© Rainer Rauhut2019
Please visit our new sites
https://lovelyantiqueprints.com
twitter.com/philographikon2
We often have special sales.