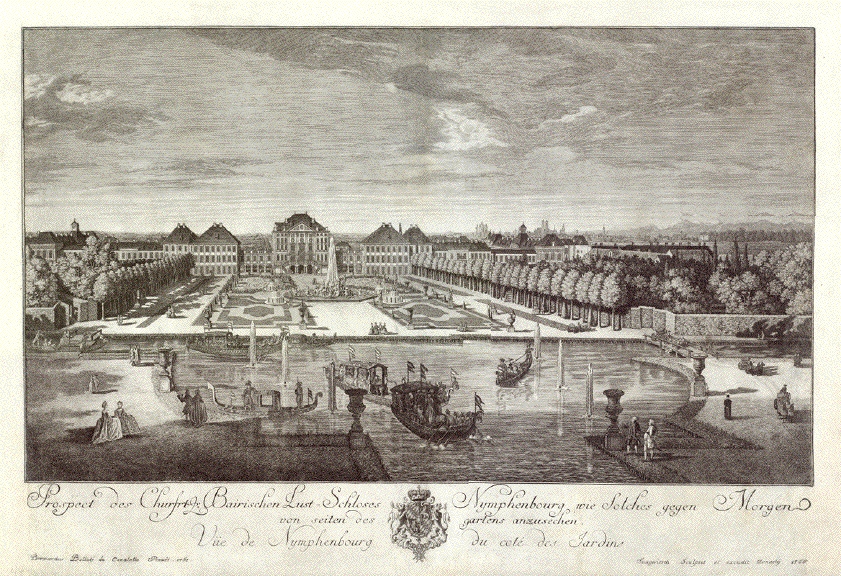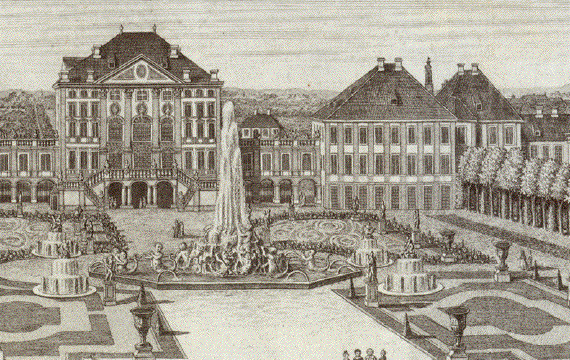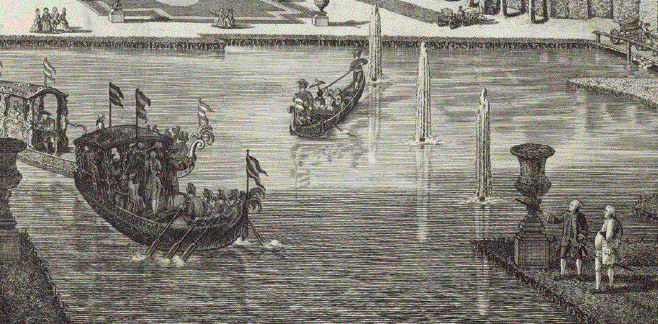 München. - "Prospekt des Churfrt. Bairischen Lust Schloses Nymphenbourg wie solches gegen Morgen von seiten des gartens anzusehen"
"Vue de Nymphenbourg du Cote des Jardins"
Kupferradierung von (copper etching by) Franz Xaver Jungwirth (1720-1790)
nach dem Gemälde von (after the painting by) Bernardo Bellotto (1722-1780) genannt Canaletto
Das 1761 von Canaletto geschaffene Gemälde wurde 1766 von Jungwirth in Kupfer gestochen.
Painiting is dated 1761, copper etching dated 1766
Die seltene Ansicht von Schloss Nymphenburg vom Schlosspark aus. Im Vordergrund das Ende des Schlossgarten-Kanals mit hochherrschaftlichen Booten.This rare etching sees the chateau from Nyphenburg Park. In the foreground: End of park canal with boats.
Im Hintergrund die Stadt München. Deutlich erkennbar die Türme von der Frauenkirche, Theatinerkirche und Rathaus, sowie Sendling und Pasing vor der Bergkette der Alpen.
In the background the City of Munich with steeples of churches and town hall recognizable. Way in back the mountain chain of the Alps.
Canaletto-Radierungen sind sehr selten. Diese Kupferradierung hatte beträchtliche Schäden: Sie war links, oben und rechts bis zur Einfassungslinie beschnitten. Mehrere Einrisse bis in die Darstellung. Das Blatt wurde aufgezogen und angefasert, so dass es, von vorne betrachtet, wieder eine angemessene Marge aufweist. Im Gegenlicht erkennt man die Risse, die durch das Aufziehen kaschiert wurden. Der untere Teil der Radierung mit dem ausführlichen Titel in deutsch und französisch sowie den Künstlerbezeichnungen voll erhalten, aber ebenfalls mit dem gesamten Blatt aufgezogen.
Canaletto etchings are very rare. This etching had multiple damages. It was trimmed to the edges (with no loss of image) on left, upper and right sides. Several tears reaching into image. The etching was professionally layer down on China paper, this way giving the etching ample margins. Seen from its front side, the tears are invisible, but against the source of light they appear to the eye. The lower part of the etching with title in German and French and the artists credits is complete.
Diese Ansicht von Schloss Nymphenburg von Canaletto ist trotz der umfangreichen Restaurierung ein wünschenswertes Blatt, nicht zuletzt wegen ihrer Seltenheit.
This view of Nymphenburg by Canaletto is desirable in spite of the heavy restoration that was need done not least because of its rarity.
Image including title: 43 x 64,3 cm (ca. 16.9 x 25.3")
$ 3200.00 (Please look for discount at top of this page)
Order Nr. MUNICH252685