"Eiserne Hängebruecke ueber den Pasig" Bridge across the Pasig River
"Eingang des Hafens von Manila" Entrance of harbor in Manila
"Iris-Strasse in Manila" Iris Street in Manila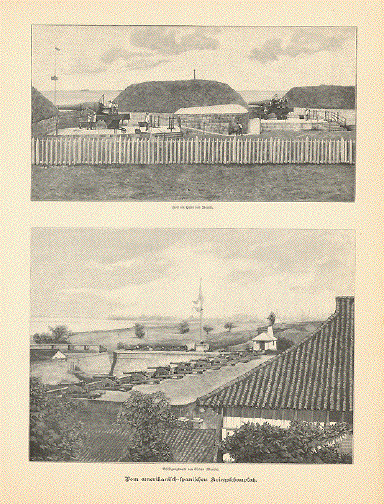 "Fort am Hafen von Manila"
"Befestigungswerke von Ciudad (Manila)" Fortifikation in Manila
"Vom amerikanisch-spanischen Kriegsschauplatz"
Two pages joined together with 5 wood engravings. Leipzig, 1898
The military contention between the USA and Spain took place from April 25 to August 12, 1898. It ended with the US occupation of Cuba, Puerto Rico, Guam and the Philippines.
Good condition. The two pages are linked
Double page measurement: 38 x 57 cm (ca. 15 x 22.4")
Order Nr.SOUTHEASTASIA243335 SOLD