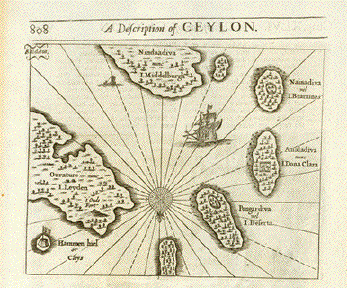 No title. Jaffna or Jaffnapatam.
Group of islands near Janna or (earlier) Jaffnapatam in the utmost north of Sri Lanka.
Copper etching. Published in "Description of East India Coasts of Mlabarand Cormandel with their adjacent Kingdoms and Prvinces of the Empire of Ceylon and of the Idolatry of the Pagans in the East Indies"
This is the English language version of the originally Dutch book, which was published in Dutch and German in Amsterdam, 1672. The English language publication was in London, 1703
Author: Philipp Baldaeus (1632-1672)
He was not a man of trade, but, with his detailed descriptions, he was very important for the trade of the East India Company.
The island-group here shown, is on the upper half page of the book. On the reverse side is text print and part of a copper etching of two Ceylon elephants.
13 x 16,6 cm (ca. 5.1 x 6.5")
$ 140.00
Order Nr. SRILANKA249518