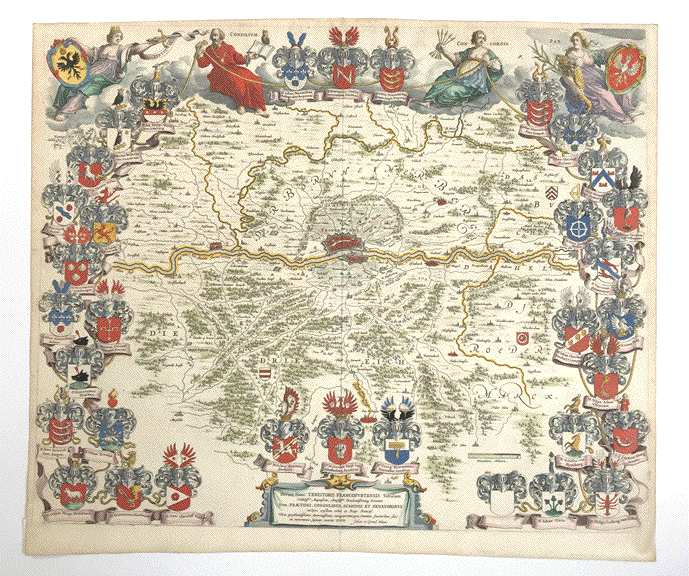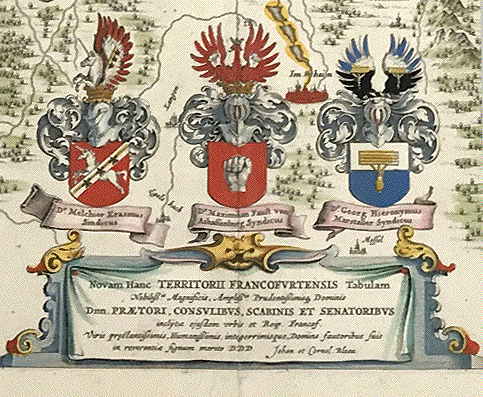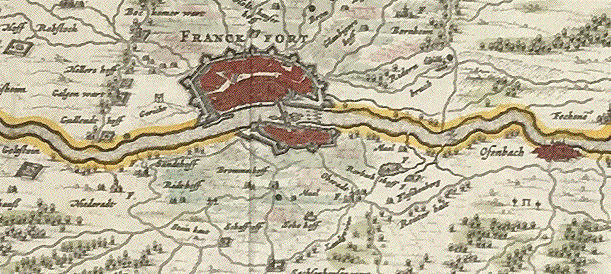 Frankfurt on the Main. - "Novam hanc Territorii Francofurtensis Tabulam....."
Copper etching by Johann Blaeu (1596-1673) and Corneille Blaeu (? - 1648)
It was published in Amsterdam 1643.
Original hand coloring.
Verso description in the Latin language.
This very decorative map shows Frankfurt and its close surrounding area. The map is surrounded by a colorful garland of coats-of-arms. These are of prominent Frankfurt families and of people with a close connection to this city. Above them all from left to right depiction of personified mottos: Iustitia (Lady Justice) - Consilium (Council) - Concordia (Concord) - Pax (Peace)
Bottom center the title cartouche, which give us clues as to whom this map was dedicated: Praetorians (modern meaning: close knit circle of influential persons in the periphery of politicians and economic leaders) - consuls - jurors, judges -
senators.The map itself shows Frankfurt on the Main in the center. Next to it, also on the river Main, the important cities of Offenbach and Hanau in the east, and, to the west, Hoechst, also on the river Main. In the north the map reaches to Kronberg / Taunus, Steinbach and the run of the river Nidda to Frankfurt-Niederursel and to Klein-Karben. In the East the map goes to Hanau. In the South it reaches to Im Hain, Ober-Roden,, Sprendlingen (Dreieich), Dreieich.
In the West: To Kelsterbach.
This print is far beyond being merely a map: It is a most attractive wall decoration even for someone who has no connection with Frankfurt at all.
Map is in very good condition. Beautiful original hand coloring. Light general age toning.
Upper and lower margins are no lineal straght.
45.5 x 54.8 cm ( 17.9 x 21.6 ")
$ 3250.00 (See discount on top of this page)
Order Nr. Order Nr. HESSEN251860