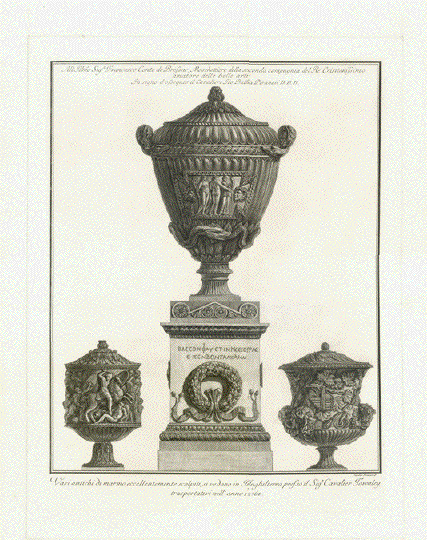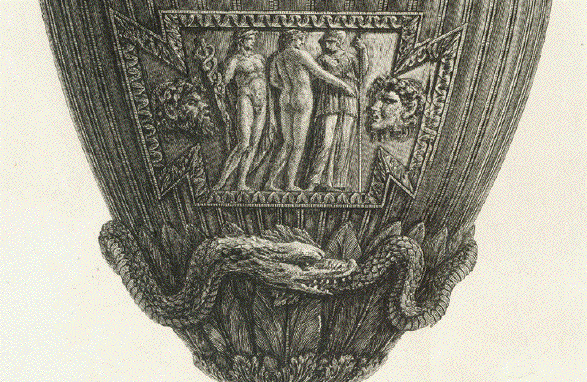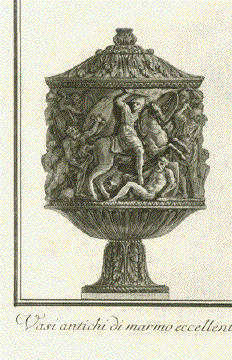 "Al Illmo Sign. Francesco Conte de Bressac, Moschettiere della seconda compagnia del Re Cristianissimo amatore delle belle arti. In segno d'ossequio il Cavaliere Gio. Batta. Piranesi D.D.D."
"Vasi antichi di marmo eccellentemente scolpiti, sei vedono in Inghilterra presso il Sign. Cavalier Townley trasportativi nell' anno 1768"
Three antique vases. The one in the middle with a Greek inscription on its base, and with an Ouroboros around the bottom of this elegant marble vase, dedicated (in memoria) to Francesco di Cosse-Brissac (1585-1651).
Published in the series: "Vase, candelabra, dipping, sarcophagi, tripod,, Lucerne, ed ornaments antichi disegnati ed incisi dal Cav. Gio.Batt. Piranesi pubblicati l'anno MDCCLXXIIX
Rome, Roma, Rom, 1778
Upper vas with the Ouroboros, the snake forming a circle and biting its own tail; The Ouroboros is a symbol of eternity, used also symbolically by occult alchemists. The Ouroboros goes back to antique Egyptian times.
Strong impression, clean print, a horizontal fold across through the base. Wide margins had been folded back in earlier times.
Lower left vase with battle scene. Lower right vase with vine leaves, grapes and pine cone.
Measurements:
Image within plate marks: 56 x 39 cm (ca. 22 x 15.4")
Sheet size: 76 x 57 cm (ca. 29.9 x 22.4")
$ 1200.00 (Please look for discount at top of this page. Here 40% = $ 720.00)
Order Nr.PIRANESI255785