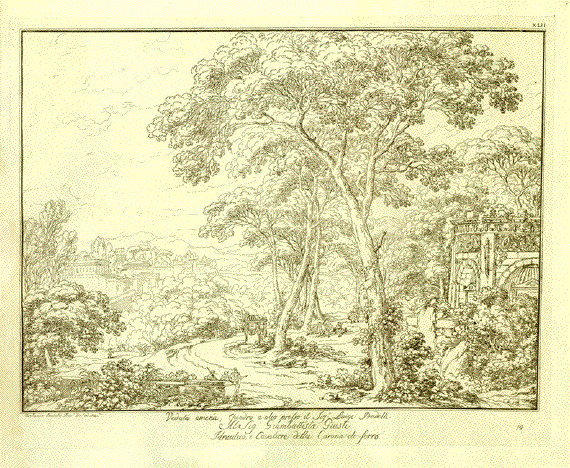 "Veduta amena" (Quadro a olio preso il Sig. Luigi Pradelli
"Amena" refers to a place named Ameno in the province of Novara in Piedmont (Piemonte), Italy.
The title continues: Dedicated a Giambattista Giusti (1758-1829).
Giusti was an Italian engineer in Bologna and an important translator from Greek and Latin to Italian of classical works. Most famous is his translation of "Oedipus" by Sophokles. Giusti asked his friend Gioachino Rossini to compose an opera thereof. The result was the opera "Edipo Coloneo". Giusti was also a noted poet.
Copper line etching of the finest quality by Antonio Basoli (1774-1848)
after his own drawing. Bologna, 1810
The ink used has a touch of brown in it, which softens the appearance of this beautiful, most likely idealized classical landscape
Overall pleasantly light age toning. Margins show some minor traces of age and use.
Left margin has a faint water stain and is narrow.
27 x 37 cm (ca. 10 x 14.5")
$ 180.00
Order Nr. BASOLI240273