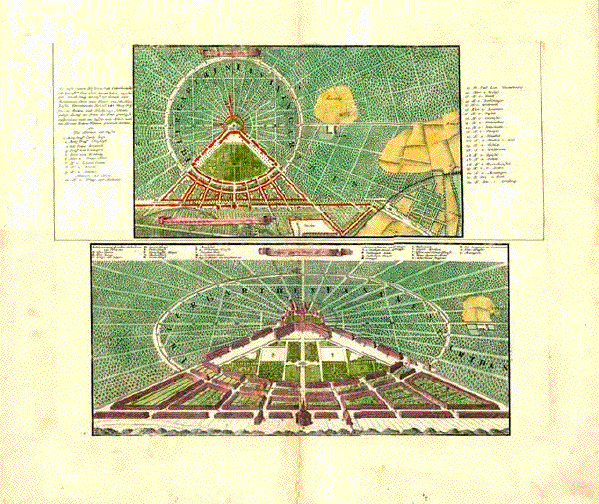 Images together: 39 x 49 cm (ca. 15.4 x 19.3")
Page size: 52 x 60.5 cm ( 20.4 x 23.8 ")
*************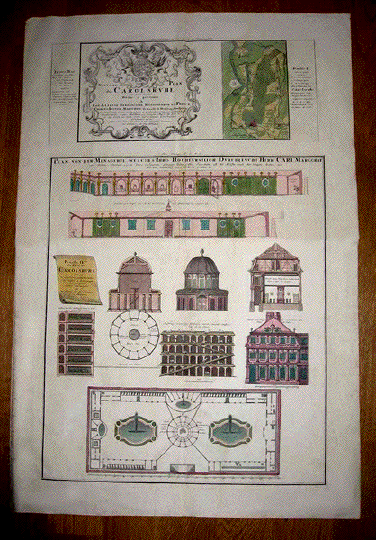 "Nouveau Plan du Carolsruhe sur feux feuilles Dedie & présente a Son Altesse Serenissime, Monseigneur Le Prince Charles Auguste Marggrave de Baade & Hochberg…"
Two copper etchings in original hand coloring, belonging together. Published by Homann Heirs in Nuremberg, 1737.
These copper etchings consist of two sheets. Some traces of age and use.
Large etching with title: - 79 x 49.5 cm (ca. 31 x 19.5")
Page size: 90 x 60 cm ( 35.4 x 23.6 ")
Vertical and horizontal centerfolds have been underlayed for support. Lower left margin has some soiling far away from image and not interfering with it.
The large print is photographed.
It is, of course, the late founding of the city and the unusual architectural conditions and circumstances, plus the unusual way of planning a new city in the center of Europe, that prompted the map makers at Homann's to create such a unique and exceptional paradigm for a map. These two etchings were not generally bound into Homann atlases. They were special sheet maps and therefore very rare!
Price for the two etchings: $ 2300.00
Order Nr. BADENWUERTTEMBERG248364
Karlsruhe ( founded by Markgraf Karl Wilhelm von Baden and envisioned and planned by him as a baroque "Planned City" in 1715. In other words Karlsruhe as a city name cannot be mentioned on maps older than the founding date of 1715.