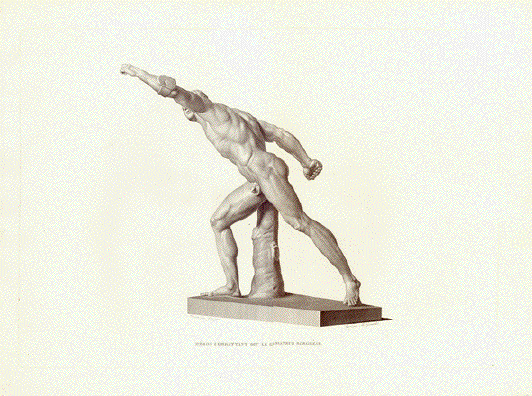 "Heros combattant dit le Gladiateur Borghese"
Fighting hero called "Gladiator Borghese"
Kämpfender Gladiator genannt "Der Gladiator Borghese"
Original statue is in the possession of "Musee du Louvre" in Paris
Very fine copper etching b y Abraham Girardet (1764-1823)
After the drawing by Jean-Pierre Granger (1779-1840)
Published in Musée des Antiques; Recueil Des Plus Beaux Tableaux, Statues, et Bas-Reliefs Qui Existaient Au Louvre Avant 1815. by Jean Duchesne Aine (author) Henri-Guillaume Chatillon (1780 - 1856) artist and engraver.
Paris, ca. 1825
Large folio copper etching of high quality. Clean. Very light and pleasant general age toning. Along paper edges some traces of age and use.
Plate mark measurements: 35,4 x 49,7 cm (ca. 14.3 x 19.6")
Sheet size: 41,5 x 56 cm (ca. 16.3 x 22")
$ 380.00
Order Nr.CLASSICNUDE251808