Veduta di Roma - Copper plates by Jacob Friedrich after Giovanni Battista Piranesi
Jacob (Johann Christian Jacob) Friedrich (13.October.1746 Friedricchstadt near Dresden - ibidem 3. June 1813) was a flower- and landscape painter. He was also famous for his copper etchings. Here we are interested in the latter, because Friedrich has etched a series of Roman architecture after Giovanni Battista in a quart format. The all-comprehensive artists lexicon "Thieme/Becker" gives only 15 etchings of such etchings, illustrating Saxonian architect Christian Traugott Weinlig's "Briefe über Rom" (Letters about Rome) which were written between 1767 and 1769, but not published until 1781 to 1787.
We have purchased a collection of 27 copper etchings after the "Vedute di Roma", clearly signed in the plate by Friedrich, which is an indication that Friedrich etched more plates after Piranesi's "Vedute di Roma" than the mentioned 15. The entire purched collection comprised 35 copper etchings, definately belonging together, since they are numbered within the platemarks in Roman numerals from I to XXXV. 27 of them were signed by Friedrich, the others signed by someone else or unsigned. In the following description we indicate the details.
The general condition of all copper etchings is Good. They are basically clean. Some have a general age toning, especially in margins. Plates have in utmost upper right pagina numbers in pale brownisch handwriting. We are not sure what these numbers are relating to, as they do not correspond with the printed Roman numbers. We do not mention these ink numbers with each description. But any other particulars will be mentioned with each. Friedrichs signature reads: J.C.J. Friedrich sc. secundum Piranesi. We shall just mention Signed by Friedrich in the detailed description.
Page size: 25.2 x 34.7 cm ( 9.9 x 13.6 ")
Image sizes are given with each image.
Sale! Discount!
30% Discount on All Prints with a PIRANESIFRIEDRICH number on this page!
Take 30% off the listed price. !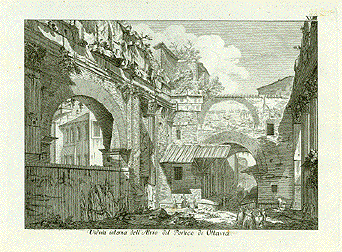 XXIIII. "Veduta interna dell'Atrio del Portico di Ottavia."
19.0 26.7 cm (7.5 x 10.5")
$ 160.00
Order Nr. PIRANESIFRIEDRICH9724
---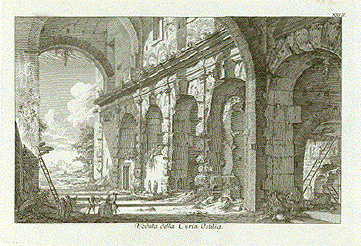 XXVII. "Veduta della Curia Ostilia."
18.3 x 29.2 cm (7.2 x 11.5")
$ 130.00
Order Nr. PIRANESIFRIEDRICH9727
---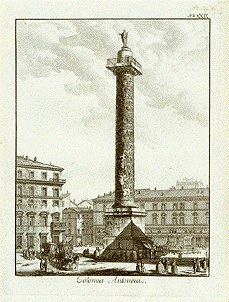 XXIX. "Colonna Antonina."
26.0 x 19.5 cm (10.2 x 7.7")
$ 280.00
Order Nr. PIRANESIFRIEDRICH9729
---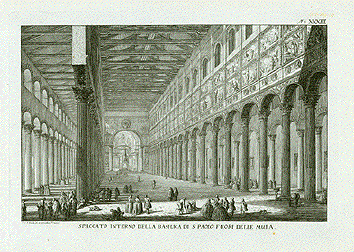 XXXIII. "Spaccato interno della Basilica di s. Paolo fuore delle Mura."
17.7 x 27.9 cm (7.0 x 11.0")
$ 180.00
Order Nr. PIRANESIFRIEDRICH9733
---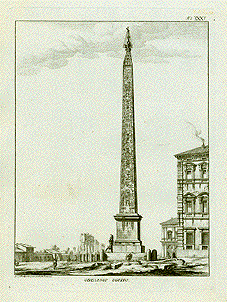 XXXV. "Obelisco Egizio."
25.6 x19.3 cm (10.1 x 7.6")
$ 220.00
Order Nr. PIRANESI9735
---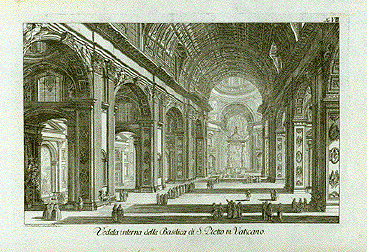 VIII. "Veduta interna della Basilica di San Pietro in Vaticano."
18.5 x 29.2 cm (7.3 x 11.5")
Insignificant pleat in upper margin
Order Nr. PIRANESIFRIEDRICH9708SOLD
---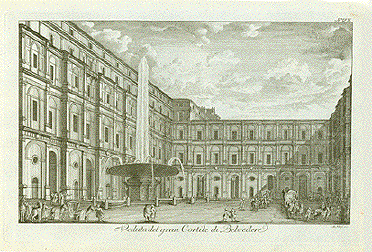 X. "Veduta del gran Cortile di Belvedere."
Signed M.Keyl (Michael Keyl, engraver. 1722 - 1798).
Right margin narrow.
17.5 x 28 cm ( 6.8 x 11 ")
$ 150.00
Order Nr. PIRANESIFRIEDRICH9710
---
XI "Veduta del Giardiono Vaticano di Belvedere ornato di edifici e di
fontane sotto il Pontificato die Pio IV. dall'Architetto Bramante,
con l'abitazione Pontificia, adornata di pitture di mano d'Andrea
Mantegna, rappresentanti istorie sacre."
17.0 x 28.5 (6.7 x 11.2")
$ 180.00
Order Nr. PIRANESIFRIEDRICH9711
---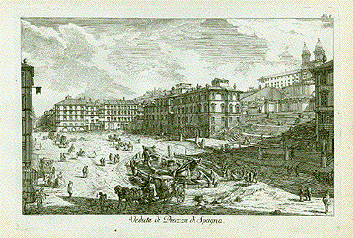 II. "Veduta di Piazza di Spagna."
Repaired small tear lower margin. Dark spot size of pinhead lower margin
18.5 x 29.8 cm 7.3 x 11.7")
$ 370.00
Order Nr. PIRANESIFRIEDRICH9702
---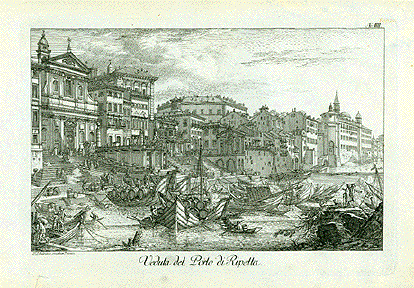 IIII. Veduta del Porto di Ripetta. Signed by Friedrich
18.2 x 29.1 cm (7.2 x 11.5").
Repaired tear left lower marginto plate mark.
Some insignificant pleats in upper left margin
$ 320.00
Order Nr. PIRANESIFRIEDRICH9704
---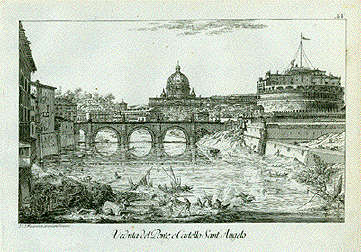 V. "Veduta del Ponte Caystello Sant'Angelo."
17.5 x 28.2 cm (6.9 x 11.1").
Repaired tear left margin away from image. Right margin narrow
$ 320.00
Order Nr. PIRANESIFRIEDRICH9705
---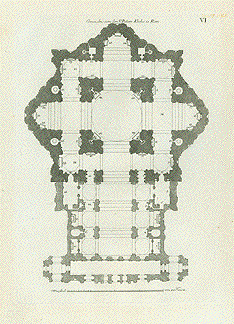 VI. "Grundriss von der St. Peters Kirche in Rom."
Repaired tear upper left margin.
28.2 x 19.4 cm (11.1x 7.6")
$ 80.00
Order Nr. PIRANESIFRIEDRICH9706
---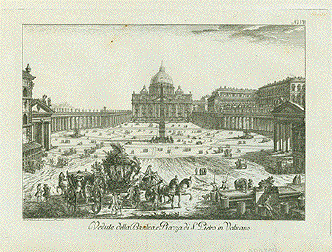 VII. "Veduta della Basilica e Piazza di S. Pietro in Vaticano."
17.8 x 26.2 cm (7.0 x 10.3").
Small hole in sky. Tiny spot on upper margin edge
Order Nr. PIRANESIFRIEDRICH9707SOLD
---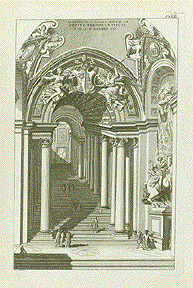 XIII. "Prospectus Scalae Regae ab Equite Bernino Extructae sub
Alexandro VII."
29.6 x 19.9 cm (11.6 x 7.8")
$ 120.00
Order nr. PIRANESIFRIEDRICH9713
---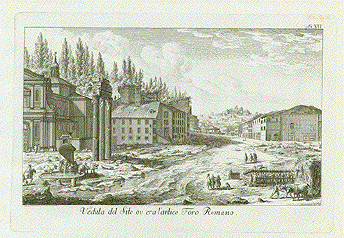 XVI. "Veduta del Sito ou era l'antico Foro Romano."
16.5 x 28.1 cm (6.5 x 11.1")
$ 300.00
Order Nr. PIRANESIFRIEDRICH9716
---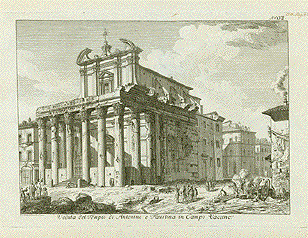 XVII. "Veduta del Tempio di Antonio e Faustina in Campo Vaccino."
Signed by Friedrich. 18.5 x 26.1 cm (7.3 x 10.3")
$ 280.00
Order Nr. PIRANESIFRIEDRICH9717
---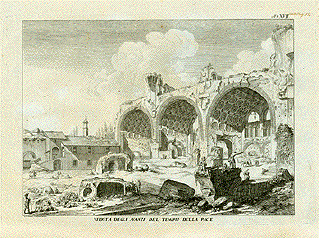 XVIII. "Veduta degli Avanzi del Tempio della Pace."
19.2 x 26.7 cm (7.6 x 10.5").
Insignificant pleats in margins
$ 140.00
Order Nr. PIRANESIFRIEDRICH9718
---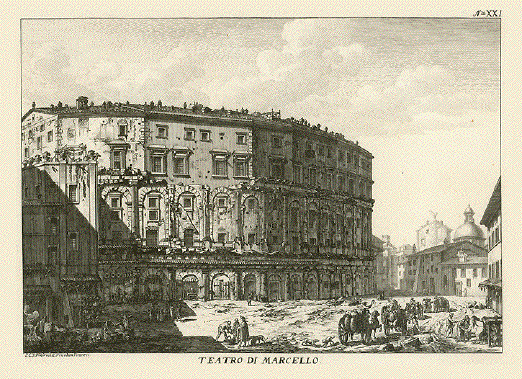 XXI. "Teatro di Marcello"
18.3 x 26.3 cm (7.2 x 10.4")
$ 320.00
Order Nr. PIRANESIFRIEDRICH9721
---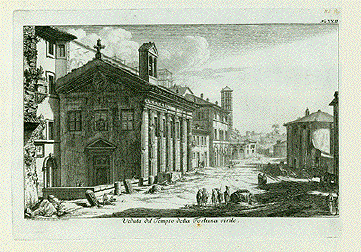 XXII. "Veduta del Tempio della Fortuna virile."
17.4 x 28.5 cm (6.9 x 11.2").
Right margin narrow. Small metal inclusion (under the "o" of "Fortuna"
$ 340.00
Order Nr. PIRANESIFRIEDRICH9722
---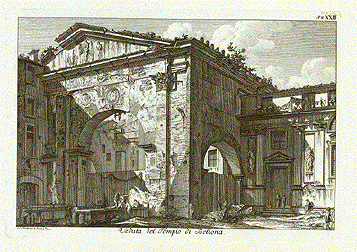 XXIII. "Veduta del Tempio di Bellona."
18.7 x 28.8 cm (7.4 x 11.3").
Right margin narrow
$ 220.00
Order Nr. PIRANESIFRIEDRICH9723
---
Prints of Italy A-E
Aquatint Etchings by J. Maina - Etchings of Ferarra, Florence, Piacenza, Rome, Verona and Venice.

Architectural Prints by D'Aviler - Copper etchings of Roman monuments.

Classical Rome - Copper etchings by Iacobo Lauro Romano

Antique Statue Prints published by Rossi, 1704

Fontane di Roma -Fountains of Rome

Piranesi: Classical views of Rome.

Veduta di Roma - Copper plates by Jacob Friedrich after Giovanni Battista Piranesi

Rossi- Classical Statues in Italian Homes and Gardens

Zocchi: Views of Florence

Prints of Alto Adige - South Tyrol

Vedute di Venezia - Prints of Venice
© Rainer Rauhut
---