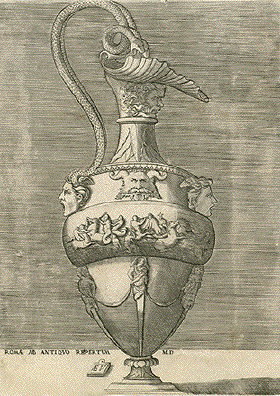 Vase with mythological figures.
Very early copper engraving 1543 by Enea Vico ( born 1523 in Parma, Italy - died 1567 in Ferarra, Italy).
Enea Vico signed his initials EA V in the small tablet in the lower left white area. He was famous for his engravings
of vases and grotesque images. In the Tuscany he made prints for Cosimo I de Medici.
He made a series of prints of the Women of Augsburg ( Donne Auguste ) in 1557.
He made 500 engravings in Ferarra in the palazzo of Alfonso II d'Este.
This very old print shows a few signs of age and use. No margins. Strong paper.
Repair in the lower white area to the right of the vase where the date was engraved.
26.5 x 19 cm ( 10.4 x 7.4 ")
$ 480.00
Order Nr. VASE246080